Jenson Button fears driving style may not matter with 2013 F1 tyres
| | |
| --- | --- |
| By Matt Beer | Wednesday, February 27th 2013, 17:01 GMT |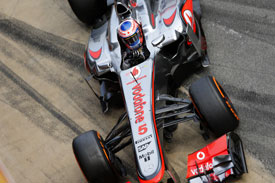 Jenson Button fears driving style could make little difference with the 2013 Formula 1 tyres.
The McLaren driver, whose smooth style is regarded as especially good for prolonging tyre life, said his initial hopes that he could work some magic with the high-degradation 2013 Pirellis were dashed at the Barcelona test last week.
"In Jerez our long runs were very competitive and I thought I could look after the tyres very well, using my style to cope," he said.
"It seems very different [at Barcelona]. I tried taking it easy on the tyres. They grain. I've tried pushing the tyres. They grain. The overall stint time is almost identical.
"When the climate is a bit warmer, I think hopefully driving style will make a difference in terms of looking after the tyres and changing the degradation.
"At the moment, they just degrade and you don't really have any choice in the matter.
"We tried a few set-up changes and they just do the same thing."
Williams managed longer than expected tyre stints in a race simulation, but driver Pastor Maldonado agreed with Button's assessment.
"You can change some things to get maybe one or two more laps from them," he said, "but not 20."
Button is optimistic that the extreme degradation experienced at Barcelona will not be repeated in races.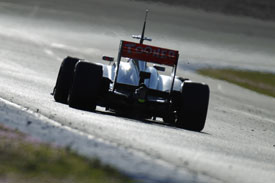 "It's the most difficult situation for the tyres because it's cold, it's abrasive and it's high-speed," Button said of the Barcelona week.
"Winter testing is always very difficult for the tyres.
"I feel that when we get to Melbourne, we will have graining. But I don't think it will be like this.
"I hope not anyway, for everyone's sake."