Massa believes final F1 test will be crucial for Ferrari
| | |
| --- | --- |
| By Matt Beer | Monday, February 25th 2013, 10:09 GMT |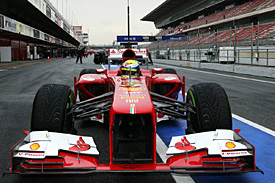 Felipe Massa sees the final Barcelona Formula 1 test this week as a crucial moment for Ferrari as it looks set to go right down to the wire with its definitive Melbourne car package.
Ferrari is working on a number of major upgrades to the F138 for the third test, and Massa admitted that some of the new components might not be ready until Australian Grand Prix practice.
"The car is still 'green'. We need to make the car in good shape for the first race," he said.
"There's a lot of work and a lot to do. This is a very important moment for the people who work on the aerodynamics, the engine and the chassis. They have to get everything together in a good direction.
"We should have maybe not everything, but some new parts for the next test, and we should have everything that we should have for the first race.
"It's important that we have the complete car we expect at the first race, and we need everything that we bring to the car to be working as we expect."
But he reiterated that his initial impressions of the car's current spec remained very positive.
"I think what we did in Jerez was quite positive and so were the changes we did in the car," Massa said.
"The car was balanced, and I think that's very important.
"Even in difficult conditions in the rain, the car was quite good to drive and competitive through the run. I feel good in the car."
Ferrari engine chief Luca Marmorini admitted during the last test that the team was cutting it fine with a potential new exhaust package.
"Failing an exhaust can force you to stop the car, so it's as critical as a piston failing or a gearbox," he said.
"So therefore we have a lot of concern about introducing the latest exhaust solution without the correct number of tests, but in the end we have to push.
"I think every engine person is a little bit uncomfortable, but we will be sure that in Melbourne we will have solutions that are tested enough."