Danica Patrick backed to race at the front in the Daytona 500
| | |
| --- | --- |
| By Glenn Freeman | Friday, February 22nd 2013, 14:41 GMT |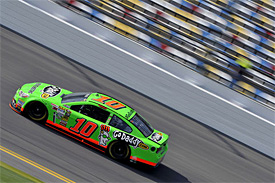 Danica Patrick's crew chief believes the Daytona 500 polesitter will be quick enough to race at the front of the NASCAR season-opener, following her low-key performance in her Duel race on Thursday.
Patrick finished 17th out of 21 finishers in her Duel, as she took a cautious approach to protect her car while everyone else was racing for their starting positions in Sunday's race.
Her crew chief Tony Gibson said after qualifying last weekend that he wanted Patrick to race hard to learn about the car for the 500, but he conceded that it was more important to get to the main race without any damage.
"It was frustrating for her, but we just had to see how the race unfolded and look after our car," he said.
"Our plan was to stay in the top three or four if we could. If that wasn't happening we were going to the back."
Gibson believes that Patrick's speed in practice and qualifying at Daytona will mean that other drivers will want to draft with her and work with her to get to the front in the 500.
"If you've got a fast car, anybody is going to draft with you," he added. "That's just how this deal works.
"If you're fast and can move forward they're going to use you - anybody will draft with us.
"People are going to use whoever they've got to use to get to the front no matter who it is."
Patrick admitted that she had learned little from the race.
"We wanted to be conservative," she said. "We didn't want any issues with the car. I know it's not the most exciting way to race.
"I'll be really honest, I don't feel I got a lot of experience with how to pass or the draft so much."