Sutil says he has done everything he can to secure Force India seat
| | |
| --- | --- |
| By Matt Beer and Glenn Freeman | Thursday, February 21st 2013, 17:07 GMT |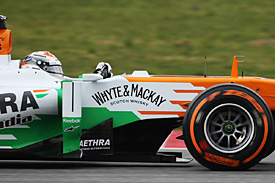 Adrian Sutil believes that he has done all he can to earn a return to Formula 1 following his day of testing with Force India on Thursday.
The German returned to the cockpit of a Force India car for the first time since he left the team at the end of the 2011 season, completing 78 laps on his way to setting the eighth fastest time on day three at Barcelona.
Sutil is vying for the seat alongside Paul di Resta with the team's 2012 reserve driver Jules Bianchi, who takes over the VJM06 for the final day of this week's test.
But the 30-year-old does not feel he is in a shootout with the Ferrari junior, who also drove the Force India in the first test at Jerez.
When asked if this week's test was a shootout, Sutil told reporters: "No, they know me better than any other team here.
"I spent six years with that team and they know my performance. I think it was obvious today that I could show I am still quick and that was very important.
"I don't know who has the better chance. I've done everything I can do to get my comeback and now it's up to them to decide."
Sutil said he expects a decision to be made soon, and he acknowledged that commercial factors are likely to be playing a role in the delay.
"If you think about it, it has to be something else [other than talent] otherwise they would have confirmed a driver in plenty of time for the first test.
"It can't take long anymore - in three weeks there is a race in Melbourne so it's about time to confirm the drivers.
"There is some business behind it, I don't really know. For me the most important thing was to deliver a performance here. I have done my part.
"I did a good day, that was very important for me so I can sleep without any worries."
AUTOSPORT special testing coverage:

Gallery

Testing blog

Technical blog

Live commentary

Trackside analysis