Barcelona F1 test: Vettel says no reliability worries
| | |
| --- | --- |
| By Edd Straw | Wednesday, February 20th 2013, 18:52 GMT |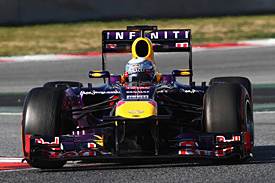 Sebastian Vettel dismissed any concerns over Red Bull's reliability despite causing a red flag during today's running at Barcelona.
The Red Bull driver stopped at the pitlane exit after making a stop because of a loose wheel, which followed a precautionary interruption of his running to investigate a dip in hydraulic pressure.
Despite the loss of track time, Vettel was still able to complete 84 laps and set the second fastest time of the day.
"It was nothing dramatic, small things," said Vettel when asked about his problems.
"First off, we had to stop the car because we weren't sure and saw some loss of pressure.
"Then, towards the end of the day, it looks like after the stop the wheel wasn't on properly so I had to stop again and caused a red flag.
"We had some issues with reliability so we couldn't do as many laps as we wanted, but it's better that these things happen today rather than in Australia."
Vettel, who will hand over to team-mate Mark Webber for the final two days of running at Barcelona, added that he was happy with pre-season progress to date.
The German has only two more days in the car, in the final Barcelona test, before next month's season-opening Australian Grand Prix.
"We are pretty happy with the car, with the balance, how it feels," said Vettel.
"This morning, we did a couple of short runs with new tyres and a little less fuel.
"This afternoon was a different story. It's fairly difficult to read because the tyres are such a dominant factor."
AUTOSPORT special testing coverage:

Gallery

Testing blog

Technical blog

Live commentary

Trackside analysis