IndyCar updates 2013 Dallara DW12 to improve safety and durability
| | |
| --- | --- |
| By Mark Glendenning | Tuesday, February 19th 2013, 17:47 GMT |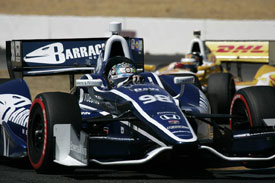 IndyCar and Dallara have made updates to the DW12 chassis for the 2013 season with the aim of improving safety and durability.
New structural pieces will be installed on the sides of the monocoque at the drivers' shoulder height in an effort to further limit the chance of the car rotating in the event of a side impact.
The side impact structures are situated inside the existing bodywork, and will therefore be invisible from outside the car and have no aero effect.
Andrea Toso, head of research and development for Dallara, said that the new structure is intended to work with the underwing in limiting the loads transmitted to the driver in a side impact.
"When the underwing contacts the wall, we want to achieve a progressive crush to dissipate the energy as it reaches the tub," said Toso.
"The design of the underwing therefore includes some localised weak points, which fail at specific and progressive impact loads to achieve the desired dissipation.
"Based on information gained from some practice week incidents at the Indianapolis Motor Speedway in 2012, we decided to modify these weak points.
"For Indy, we added slots in the support cones for the underwing, and prior to Fontana we added slots in the leading edge of the underwing.
"These modifications have made the underwing collapse more progressively in a side impact, resulting in less load being transmitted to the driver.
"In order to further reduce the risk of tilt, we needed to get a more even distribution of crash resistance from top to bottom. This is the purpose of the side impact structure."
Along with the new Side Impact Structures, the sides of the cockpits have been reinforced with panels made from Zylon, a synthetic polymer with a tensile strength 1.6 times higher than that of Kevlar.
New brake disc guards
The series has also introduced new brake disc guards, which will be mandatory for oval races and optional at road and street courses.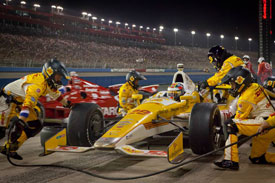 IndyCar vice-president of technology Will Phillips said that the updates are intended to prevent damage to the rotors during pit stops.
"The guard helps keep the rotors, which are made of carbon, from being damaged by the wheel during a typical six-second pit stop for tyres," he said.
"We have made it mandatory for the ovals only this season to ensure there is no aerodynamic advantage of running the old versus new type.
"This will allow our teams to run through their remaining inventory from 2012 at road and street events with no compromise of safety or performance."