NASCAR Sprint Unlimited: Kevin Harvick avoids crash and sets pace
| | |
| --- | --- |
| | Saturday, February 16th 2013, 07:53 GMT |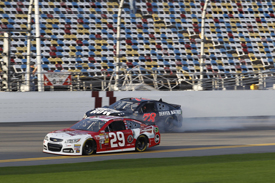 Kevin Harvick dodged a multi-car accident to set the fastest time in NASCAR's first practice session of the year at Daytona.
The Sprint Cup season officially began on Friday evening with two sessions for the drivers involved in Saturday night's Sprint Unlimited non-championship race.
Within minutes of the green flag, contact between Matt Kenseth's Joe Gibbs Toyota and Kurt Busch's Furniture Row Chevrolet triggered a five-car pile-up.
Carl Edwards, Juan Pablo Montoya and Mark Martin were also collected. Martin, Edwards and Busch all now need to use back-up cars for Saturday's race.
Kenseth accepted responsibility for the crash.
"That was 100 per cent my driver error," he said. "I had no idea anybody was there, and he had a run at the same time, and I came down in front of him.
"It doesn't matter what kind of car you're driving, if you drive down in front of somebody, they're going to hit you."
Harvick was running in the same pack but managed to flick between the five crashing cars and emerge unscathed.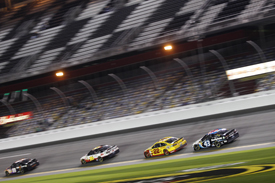 The Richard Childress Ford driver set a best time of 45.601 seconds to top the session, 0.011s ahead of Aric Almirola.
Greg Biffle, Kasey Kahne and Martin Truex Jr completed the top five.
Denny Hamlin was fastest in night practice, in which only 12 of the 19 Unlimited drivers chose to participate.
Saturday features the first Daytona 500 practice sessions before the Unlimited race in the evening.
See more pictures from NASCAR's Daytona events in the AUTOSPORT news gallery
Practice one results:

Pos  Driver              Team/Car                     Time     Gap
 1.  Kevin Harvick       Childress Chevrolet          45.601s
 2.  Aric Almirola       Petty Ford                   45.612s  + 0.011s
 3.  Greg Biffle         Roush Fenway Ford            45.660s  + 0.059s
 4.  Kasey Kahne         Hendrick Chevrolet           45.676s  + 0.075s
 5.  Martin Truex Jr     Waltrip Toyota               45.677s  + 0.076s
 6.  Dale Earnhardt Jr   Hendrick Chevrolet           45.743s  + 0.142s
 7.  Juan Pablo Montoya  Earnhardt Ganassi Chevrolet  45.769s  + 0.168s
 8.  Kurt Busch          Furniture Row Chevrolet      45.776s  + 0.175s
 9.  Matt Kenseth        Joe Gibbs Toyota             45.831s  + 0.230s
10.  Kyle Busch          Joe Gibbs Toyota             45.831s  + 0.230s
11.  Joey Logano         Penske Ford                  45.912s  + 0.311s
12.  Denny Hamlin        Joe Gibbs Toyota             45.922s  + 0.321s
13.  Mark Martin         Waltrip Toyota               45.939s  + 0.338s
14.  Carl Edwards        Roush Fenway Ford            45.960s  + 0.359s
15.  Jeff Gordon         Hendrick Chevrolet           46.145s  + 0.544s
16.  Tony Stewart        Stewart-Haas Chevrolet       46.146s  + 0.545s
17.  Marcos Ambrose      Petty Ford                   46.298s  + 0.697s
18.  Terry Labonte       FAS Lane Ford                47.138s  + 1.537s
19.  Jimmie Johnson      Hendrick Chevrolet           47.749s  + 2.148s

Practice two results:

Pos  Driver              Team/Car                     Time     Gap
 1.  Denny Hamlin        Joe Gibbs Toyota             45.906s
 2.  Joey Logano         Penske Ford                  45.915s  + 0.009s
 3.  Greg Biffle         Roush Fenway Ford            45.999s  + 0.093s
 4.  Kevin Harvick       Childress Chevrolet          45.999s  + 0.093s
 5.  Aric Almirola       Petty Ford                   46.027s  + 0.121s
 6.  Juan Pablo Montoya  Earnhardt Ganassi Chevrolet  46.492s  + 0.586s
 7.  Kasey Kahne         Hendrick Chevrolet           46.628s  + 0.722s
 8.  Marcos Ambrose      Petty Ford                   46.664s  + 0.758s
 9.  Kyle Busch          Joe Gibbs Toyota             46.970s  + 1.064s
10.  Terry Labonte       FAS Lane Ford                47.020s  + 1.114s
11.  Jeff Gordon         Hendrick Chevrolet           47.130s  + 1.224s
12.  Jimmie Johnson      Hendrick Chevrolet           47.339s  + 1.433s