European Rally Championship moves Croatia and Poland dates
| | |
| --- | --- |
| | Tuesday, February 12th 2013, 16:59 GMT |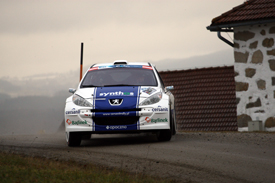 The Croatian round of the European Rally Championship will move from June to September, in a change that also alters Rally Poland's date.
The Croatia Rally had originally been scheduled for June 6-8, but requested a transfer to the last weekend of September so it could coincide with an FIA World Motor Sport Council meeting in the country.
To make room, Rally Poland moves forward a fortnight to September 13-15.
"Changing the calendar once the season is underway is never an ideal situation but we must thank the organisers of Rally Poland for their assistance in accommodating a request by the Croatia Rally," said Francois Ribeiro, motorsport development manager of ERC organiser Eurosport Events.
The date change means the ERC now has a date clash with the World Rally Championship, which had not previously been the case.
"While the date of Rally Poland now clashes with the WRC round in Australia, something we had looked to avoid with the FIA, the different timezones and the fact the two rallies appeal to a different competitor base means neither rally should be overly affected," Ribeiro said.
Rally Poland is considered key to Robert Kubica's planned ERC programme, but its new date does should not impact on his 2013 decision-making as it still clashes with a round of the DTM, the other series Kubica has been linked to this year.