Jeff Gordon: New NASCAR Sprint Cup cars demand more skill
| | |
| --- | --- |
| By Matt Beer | Sunday, February 10th 2013, 13:01 GMT |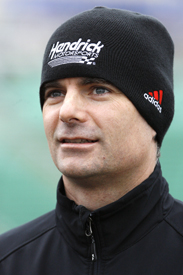 Three-time Daytona 500 winner Jeff Gordon believes the new-for-2013 NASCAR Sprint Cup technical package will demand more driver skill in close racing.
The Gen-6 cars make their competitive debut in the Daytona events, which kick off next weekend with the non-championship Shootout.
Evidence from testing suggested the unpopular tandem drafting that had been key to superspeedway racing in recent years had been eradicated.
Gordon said the multi-car crash on day two of Daytona testing last month proved that superspeedway racing was now a different art.
"I think the package that they have for Daytona is going to be very exciting and a lot of fun," he said.
"It's not going to drive great in traffic and I think that's a good thing.
"I don't think we're going to be pushing and doing all that tandem drafting like we were. It didn't take long in testing to find out that doesn't work very well [with the crash]."
Gordon, a four-time Cup champion says the drafting style will be more akin to that required in the 1990s and early 2000s.
"I remember in my first years in the Cup series, you probably get to the rear bumper of the car in front of you no matter how big a run you had," he said.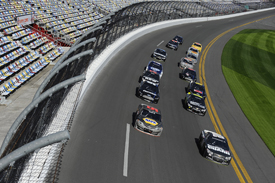 "You simply couldn't get there and hit them and stay there. You had to use that air.
"It's a little bit more like that, which I think is a good thing and the challenge of drafting and making passes will be a little bit greater."
But the Hendrick driver still believes the decisive stages will feature carnage regardless of the technical package.
"The closing laps are going to be all kinds of crazy chaos like we've seen for years," Gordon said.
"It's just how the race is going to unfold prior to that [will be different]."