EJ Viso says Andretti Autosport the best option for him in 2013
| | |
| --- | --- |
| By Mark Glendenning | Friday, February 8th 2013, 09:14 GMT |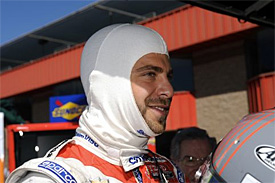 EJ Viso believes that his ride with Andretti Autosport was the strongest option available to him for 2013 after he backed down on his initial plans to form his own team.
Viso, together with a group of sponsors working collectively under the Team Venezuela banner, had originally signalled his intention to strike out as an owner-driver after leaving KV Racing at the end of last season.
But the challenges of putting a programme together in time for 2013 eventually prompted him to look elsewhere for a ride, and he is confident that the fourth seat at Andretti will prove to be the right choice.
"More than difficult, [putting a team together] was frustrating," Viso said.
"In every negotiation, there are always factors that are out of your hands, and some other people need to take a couple of decisions. Sometimes it's not only people, but companies. And the answers that we got from them were not quick enough.
"We as Team Venezuela, when we let go of starting our own programme, and we thought about what would be the best option, where we ended up was definitely what we considered was going to be the most beneficial partnership that we could find."
The Andretti team was notable in the paddock last year for the tight-knit relationship and strong chemistry between drivers Ryan Hunter-Reay, James Hinchcliffe and Marco Andretti, but Viso is optimistic that he will have no problems fitting in.
"I believe I'm just going to add a lot of things into that synergy that was already created in the last year," he said. "I like the three drivers and I think each one of them have their own forte.
"And obviously, Ryan winning the championship, that's a great momentum that the team has, that hopefully we can continue."
Viso's car will be run in collaboration with HVM, the team with which he began his IndyCar career in 2008. He will also be reunited with engineer Michael Cannon, with whom he worked during his two season at HVM.