Rossiter: On-track testing a boost for F1 simulator work
| | |
| --- | --- |
| By Jonathan Noble | Thursday, February 7th 2013, 15:29 GMT |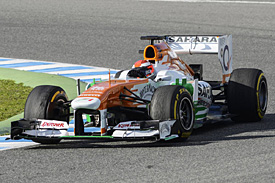 James Rossiter believes that Force India's simulator programme will be hugely boosted by the testing he did at Jerez in Spain this week.
The Briton drove two half days for the Silverstone-based team in the first pre-season test, as the outfit wanted to give him a better understanding of how a contemporary machine compares to the simulator.
When asked by AUTOSPORT how valuable he felt the running had been, Rossiter said: "Massively. I think with all the guys who I work with, and the vehicle dynamic guys who work on the simulators, it has been very, very important.
"It is so important to get it right with the tyres early on in the season. Then we can really try and help with the early season upgrades and the direction we need to take it in to exploit its full potential."
Rossiter tried out different tyre compounds during his running, and believed the fact that he was able to set competitive times showed how beneficial simulators could be.
The only drama of the two days was when he misjudged his braking into the pits on Thursday morning, knocking down one of his mechanics.
"It was totally my fault," said Rossiter. "We were doing some aero runs and everything was cold. The brakes were too cold, the tyres were too cold and I came in too fast.
"Thank god Marcus is okay. He has got a few bruises and I am sure I will be buying him many beers and he won't be forgetting it soon.
"There are no reset buttons in real life like there is in the simulator - and there are no mechanics standing in front of the car in the simulator either! It was quite unfortunate but luckily he is okay."
AUTOSPORT special testing coverage:
Gallery
Testing blog
Technical blog
Live commentary
Trackside analysis