NASCAR moves to make start-and-park less lucrative
| | |
| --- | --- |
| By Matt Beer | Wednesday, February 6th 2013, 16:22 GMT |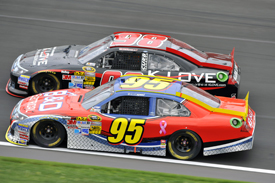 NASCAR is altering the Sprint Cup prize fund to try and discourage 'start and park' operations, but has refused to clampdown heavily on the practice.
Some back-of-the-field teams habitually retire their cars after a few laps of races and are still able to claim significant prize money for being classified even at the tail of NASCAR's 43-car results.
The series' president of competition Robin Pemberton confirmed that moves were afoot to make the tail-end positions less financially attractive.
"We have moved some of the prize money off the back spots up to higher in the purse so that if someone's intention is slowly to run a lap or two and park it and go home, the revenue stream shrinks for that package," he said.
But Pemberton insisted that keeping a healthy prize fund even for tailenders was essential to help new teams gain a foothold.
"NASCAR's formula for success for so long has been to be open to anyone that comes with a qualifying package and can meet all the requirements from event to event," he said.
"A lot of drivers and car owners struggle early on and they become significant participants in the sport over time.
"I point to Richard Childress, who today is one of the most iconic car owners our sport has ever had, but who struggled in his early days.
"Back in those days, he literally would've been called a 'start-and-parker', but we see his significance to our sport so many years later.
"While we understand the fact that it's irritating - and it irritates us - for someone to maybe take advantage of the rules, leaving the rules alone is more advantageous than shutting that opportunity out for others to participate in the sport."