Caterham: No plans for vanity panel for CT03 car
| | |
| --- | --- |
| By Jonathan Noble | Tuesday, February 5th 2013, 09:40 GMT |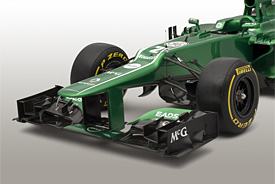 Caterham has no plans to hide the stepped nose on its CT03 with a vanity panel, as the team questions whether other teams will keep with their launch designs.
Teams have been divided so far on whether or not to fit the optional vanity panel over the 'ugly' noses that have become a feature of the current rules.
Caterham has joined teams like Lotus and Red Bull in coming to the conclusion that the vanity panel cover only provides a weight disadvantage, and team principal Cyril Abiteboul says outfits that are running them currently may even ditch them for the start of the season.
"The thing is it is extra weight," said Abiteboul. "Let's face reality: we cannot afford the luxury right now to add extra weight on to the car. We will see later in the season.
"What we would not want to be doing was being the only one who has an ugly nose. So if everyone was to follow that trend then maybe we would do something."
He added: "I have not seen a lot of cars , maybe Ferrari has a nice nose , but I would be interested to see what they run in the race when the weight makes a difference, not just for a car launch.
"We have a car that we will be developing during the season, so we are not ruling out anything , including a different nose."
Marussia MR02 - full coverage:
Caterham CT03 presented at Jerez

Caterham CT03 in pictures

Caterham promises major car revamp