Alonso says Hamilton is still his strongest rival in Formula 1
| | |
| --- | --- |
| By Jonathan Noble | Thursday, January 17th 2013, 10:49 GMT |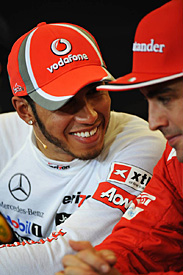 Fernando Alonso is sticking to his view that Lewis Hamilton remains his strongest rival in Formula 1, despite Sebastian Vettel having captured his third world title.
Although Alonso thinks it is too early to judge which of his rivals will challenge him the hardest in 2013, in terms of driving talent he has no doubts about who he thinks is the best.
"I do not know who will be my main opponent for this season, he who has the best team, with the best year in terms of preparation, luck, testing, all of these factors, will help a driver or team to come on top of others," he said at Ferrari's Wrooom media event at Madonna di Campiglio on Thursday.
"But as for strongest opponent, who is strongest driver? My answer is Hamilton. It was true last year, it was true this year.
"The strongest driver? It is a personal opinion, not political, not to make people think something. Who is the strongest opponent, the strongest driver on grid? Who is the one you have to keep an eye on? It is Hamilton - and it will still be Hamilton next year."
When asked why he did not think Vettel was the strongest driver after winning a third consecutive driver's championship, Alonso said: "I am not saying he is not the strongest driver.
"In 2011, there was a fantastic performance from him. It is true the car was much in front of everybody, they [Red Bull] were first and second consistently, and when the car is good you tend to relax in some races.
"But I remember difficult races in 2011 with wet/dry conditions, and he did not do any single mistake. So for sure in these three years there were moments when he was better than anybody else and he deserved these three championships."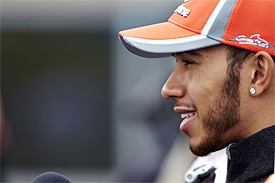 Although Hamilton has played down his prospects for the season ahead as he undertakes a new challenge at Mercedes, Alonso thinks is unlikely the Briton will not win races.
"I am sure he will be able to win," he said. "He is a super good driver because he won every year with any car: he won in 2007 and 2008.
"In 2009 they started around two seconds off the pace with the McLaren, and Hamilton was able to win races – and it was the same in 2010.
"Last year also Nico [Rosberg] we saw winning in China with Mercedes. So with Hamilton he will be able to win more than one race."