Daytona 500: Greg Biffle tops final day of testing
| | |
| --- | --- |
| | Saturday, January 12th 2013, 23:30 GMT |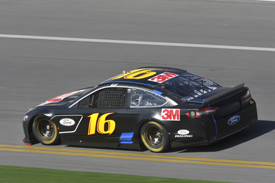 Greg Biffle was quickest among those who stayed on for the final day of NASCAR Sprint Cup pre-season testing at Daytona on Saturday.
Although many teams chose to abandon the test to save their equipment for next week's Charlotte sessions following Friday's multi-car accident, 21 cars were still present for the final day's first session, with 15 running in the afternoon.
Biffle's pacesetting 46.169s lap came in the second session, as the Roush Fenway Ford driver edged out former team-mate turned Joe Gibbs Toyota racer Matt Kenseth, who had been fastest in the morning, and Kyle Busch in another JGR entry.
Trevor Bayne's time from Friday, set in a drafting pack, remained the best of the three-day test. The 2011 Daytona 500 winner was second behind Kenseth in the morning in his Wood Brothers Ford.
Danica Patrick completed the top three as she continued preparations for her first Cup season with Stewart-Haas.
Teams eschewed pack drafting following Friday's carnage, instead focusing on solo running.
But despite the accident, the general consensus regarding the new Gen-6 car's performance in traffic was positive, with drivers optimistic that the unpopular tandem drafting of recent years would no longer be required.
Morning times:

Pos  Driver              Team/Car                     Time     Gap
 1.  Matt Kenseth        Joe Gibbs Toyota             46.377s
 2.  Trevor Bayne        Wood Brothers Ford           46.467s  + 0.090s
 3.  Danica Patrick      Stewart-Haas Chevrolet       46.476s  + 0.099s
 4.  Paul Menard         Childress Chevrolet          46.519s  + 0.142s
 5.  Tony Stewart        Stewart-Haas Chevrolet       46.587s  + 0.210s
 6.  Austin Dillon       Childress Chevrolet          46.613s  + 0.236s
 7.  Jeff Burton         Childress Chevrolet          46.673s  + 0.296s
 8.  Greg Biffle         Roush Fenway Ford            46.696s  + 0.319s
 9.  Kyle Busch          Joe Gibbs Toyota             46.699s  + 0.322s
10.  Juan Pablo Montoya  Earnhardt Ganassi Chevrolet  46.717s  + 0.340s
11.  Ryan Newman         Stewart-Haas Chevrolet       46.717s  + 0.340s
12.  Kurt Busch          Furniture Row Chevrolet      46.740s  + 0.363s
13.  Kevin Harvick       Childress Chevrolet          46.868s  + 0.491s
14.  Dale Earnhardt Jr   Hendrick Chevrolet           46.880s  + 0.503s
15.  Jimmie Johnson      Hendrick Chevrolet           46.917s  + 0.540s
16.  Ricky Stenhouse Jr  Roush Fenway Ford            46.976s  + 0.599s
17.  Carl Edwards        Roush Fenway Ford            46.978s  + 0.601s
18.  Josh Wise           Front Row Ford               47.265s  + 0.888s
19.  Casey Mears         Germain Ford                 47.307s  + 0.930s
20.  Bobby Labonte       JTG Toyota                   47.670s  + 1.293s
21.  Kvapil/Reutimann    BK Toyota                    48.283s  + 1.906s

Afternoon times:

Pos  Driver              Team/Car                     Time     Gap
 1.  Greg Biffle         Roush Fenway Ford            46.169s
 2.  Matt Kenseth        Joe Gibbs Toyota             46.221s  + 0.052s
 3.  Kyle Busch          Joe Gibbs Toyota             46.254s  + 0.085s
 4.  Dale Earnhardt Jr   Hendrick Chevrolet           46.295s  + 0.126s
 5.  Juan Pablo Montoya  Earnhardt Ganassi Chevrolet  46.354s  + 0.185s
 6.  Ryan Newman         Stewart-Haas Chevrolet       46.372s  + 0.203s
 7.  Carl Edwards        Roush Fenway Ford            46.458s  + 0.289s
 8.  Tony Stewart        Stewart-Haas Chevrolet       46.528s  + 0.359s
 9.  Danica Patrick      Stewart-Haas Chevrolet       46.529s  + 0.360s
10.  Jimmie Johnson      Hendrick Chevrolet           46.617s  + 0.448s
11.  Trevor Bayne        Wood Brothers Ford           46.629s  + 0.460s
12.  Casey Mears         Germain Ford                 46.826s  + 0.657s
13.  Ricky Stenhouse Jr  Roush Fenway Ford            46.828s  + 0.659s
14.  Josh Wise           Front Row Ford               47.295s  + 1.126s
15.  Kvapil/Reutimann    BK Toyota                    48.198s  + 2.029s