AmD believes NGTC switch will help it run in front of BTCC field
| | |
| --- | --- |
| By Jamie O'Leary | Thursday, January 10th 2013, 11:20 GMT |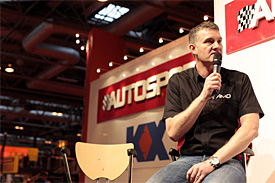 Shaun Hollamby believes that his AmD Tuning squad's switch to NGTC machinery will help it run near the front of the British Touring Car field next year.
AmD announced earlier this week that it is building an NGTC-spec Vauxhall Astra and plans to debut the car during the second half of 2013, after beginning the season with its existing S2000 Volkswagen Golf.
Speaking on the AUTOSPORT Stage with KX at AUTOSPORT International on Thursday, Hollamby said that he was excited about the possibilities the car provides his team for 2014 and beyond.
"NGTC is the way forwards without a doubt," he said. "If you want to be at the front, you have to have an NGTC car.
"Even last year we saw the NGTCs running away from the S2000s. Bigger tyres, bigger brakes, everything about them is superior now.
"Plus the big problem with S2000s is that they were very expensive to build initially, and we sorted the Golf ourselves. Compared to S2000s, the NGTCs are relatively cheap."
Hollamby cited the achievements of rival squad Motorbase Performance in 2012 as something to aspire to.
Motorbase switched Mat Jackson from an S2000 Ford Focus to an NGTC-spec model for the second half of last year and was rewarded with a maiden race win for the car at Silverstone.
'The Vauxhall development starts next week so we should have half a season of that process done before we debut,' he added.
'It's just like what David Bartrum and Motorbase did last year, and if we can achieve what they have, then that would be absolutely fantastic.'