Simona de Silvestro benefiting from KV team-mate Tony Kanaan
| | |
| --- | --- |
| By Mark Glendenning | Friday, December 14th 2012, 11:20 GMT |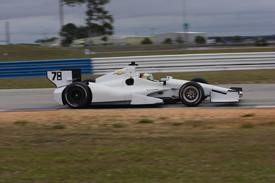 KV Racing Technology's Simona de Silvestro admits that she is still getting used to having a team-mate for the first time after testing with Tony Kanaan at Sebring this week.
The Swiss driver, who moves to KV for next season after spending her first three years in IndyCar as HVM's sole driver, has already tested with her new team at Barber and Texas Motor Speedway, but said the Sebring outing was invaluable in helping her learn to get the most out of working with 2004 champion Kanaan.
"I think we're still learning how to work together because I've never had a team-mate in IndyCars and that's all new to me," she told the official IndyCar website.
"Having someone right there in the seat at the same time, giving feedback and listening to what he thinks is great. I hope to learn a lot as we develop this team, which has been working really hard.
"[At] the Barber and Texas tests I was learning a lot of things, like the guys' names, and now we're starting to click. This test is important to jump-start the [2013] season."
Kanaan was encouraged by how they had worked together so far.
"We're still getting to know each other, but she's a very easygoing person so I don't see any problems," he said. "Everything is new to her. She's fast and finally now she's got to a team where she has the potential to show her talent."