Matt Kenseth makes Joe Gibbs Racing debut at Charlotte
| | |
| --- | --- |
| By Diego Mejia | Wednesday, December 12th 2012, 09:01 GMT |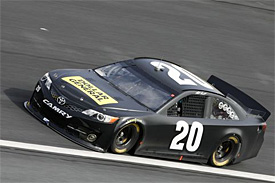 Matt Kenseth completed his first day of testing for Joe Gibbs Racing at Charlotte Motor Speedway as a number of teams ran with their 2013 cars on Tuesday.
The 2003 NASCAR Sprint Cup champion had his on-track baptism at the wheel of one of next year's JGR Toyotas, sharing the session with his new team-mate Denny Hamlin and another 14 drivers from 10 different organisations.
Kenseth, who finished the day third fastest behind Hendrick Motorsport's test driver Regan Smith and Hamlin, admitted he felt nervous ahead of his first run for Gibbs.
His morning session ended with an engine change after he accidentally over-revved the V8 unit of his Camry.
"I've got to be honest, it was probably the first time I've been nervous in a race car in as long as I can remember," said Kenseth.
"It's always exciting and you're a little anxious when you go do something different. It's been fun so far.
"[You have to] just get used to going to find a different group of guys in a different hauler and a different car, and everything is different inside the car.
"I couldn't wait to get to the track today. I just didn't want to do anything stupid like I did, pretty much."
Kenseth, who drove for a manufacturer other than Ford for the first time in his Cup career, said it will take time to build his relationship with crew chief Jason Ratcliff and his new group, having already spent some time with them over the past few weeks before their first day at the track.
"It takes time to get to know each other especially at the track," said Kenseth. "How you do things and all of that stuff is certainly more than a couple of hours. But, it was really good.
"I spent a lot of time with Jason here the last month or so and getting to know all of the guys a lot better - spending some time over there getting to know the technical guys and all of that a lot more."
Joey Logano, who Kenseth replaces at JGR, also completed his maiden on-track outing for Penske Racing at the wheel of the #22 car.
Teams continue testing on Wednesday.