Red Bull open to idea of hosting grand prix at revamped Spielberg
| | |
| --- | --- |
| By Gerhard Kuntschik and Jonathan Noble | Sunday, December 9th 2012, 00:31 GMT |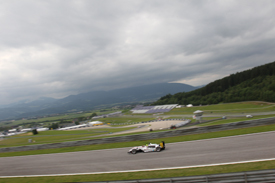 Red Bull is open to the idea of Austria hosting a Formula 1 race next year at its revamped Spielberg track.
The energy drinks company has overhauled the venue, now known as the Red Bull Ring, and its motorsport advisor Helmut Marko has revealed that he has been in touch with the FIA to make it aware of the opportunity available.
The FIA announced earlier this week that a European F1 race would be held on July 21 next year at an unspecified venue - with France and Turkey the favourites to secure the spot.
Click here for Dieter Rencken's in-depth analysis of the 'race #20' situation
However, Marko believes the Red Bull Ring is more than capable of securing a return of F1 to Austria for the first time since 2003.
Marko said: "We made the FIA aware of the fact that there is the Red Bull Ring and it holds a full grade F1 licence."
Although Spielberg's current 40,000 capacity would make it tough for the event to make a profit, Marko suggests that funding could also be forthcoming from the Austrian national government and the province of Styria.
With Red Bull having renovated nearby hotels, as well as there being a high-speed toll road to the city of Graz, Marko says there should be no problem with accommodation.
"It worked in the 1970s and 1980s too," he said. "And we have a full amount of hotels in Graz."
Red Bull boss Dietrich Mateschitz is currently on vacation and unavailable for comment about the possibility of there being an Austrian GP in 2014.
Austria has held 26 world championship F1 races. An event in 1964 took place on a military airfield at Zeltweg before the Osterreichring was used from 1970 to 1987. The revised A1 Ring held grands prix between 1997 and 2003.