Penske IndyCar drivers would welcome Tony Stewart at Indy 500
| | |
| --- | --- |
| By Glenn Freeman | Thursday, December 6th 2012, 10:55 GMT |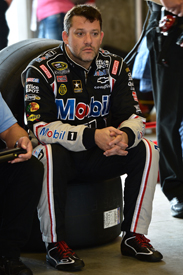 Penske IndyCar team-mates Will Power and Helio Castroneves have backed their team boss Roger Penske's pitch to get Tony Stewart to enter the Indianapolis 500.
Legendary team boss Penske went public with his attempts to get the three-time NASCAR Cup champion to race in the Indy 500 and the 600-mile race at Charlotte on the same day at the recent NASCAR awards banquet.
Indianapolis Motor Speedway CEO and president Jeff Belskus says that the organisers will be open to moving the start time forward at Indy to enable Stewart - the 1997 Indy Racing League champion - to enter both races for the first time since 2001.
IMS has also started a petition entitled #Smoke2Indy, which currently has more than 3000 signatures.
Power, a three-time IndyCar Series runner-up, said: "Having Tony Stewart as a team-mate at Indy would be bloody great.
"If we lose more downforce and the cars are looser, he would love them.
"I'll tell you what, I don't want to finish second but Tony Stewart could win the Indy 500.
"There are 33 cars in the field, but Tony would have a bloody good chance to pull it off if he drove for Roger."
Castroneves, who is chasing a fourth Indy 500 win, also believes 41-year-old Stewart could be competitive at the Brickyard.
"He is an incredible driver and Penske is incredible at the Indy 500," said the Brazilian.
"I think he will do well, but I don't want him to win his first Indy.
"I want to win my fourth and be with AJ Foyt, Rick Mears and Al Unser in the record books. Tony and Will can battle for second."
Stewart said on Wednesday that he could not see himself entering the Indy 500 next year, but he is still interested in returning to the race in the future.
"I don't know if I can add any more to what I have right now," he was quoted as saying by the Associated Press.
"I'm not going to do it this year [2013], but there's nothing saying that down the road I may not take him up on that same offer."