Rick Kelly to drive Nissan's V8 Supercar challenger for first time
| | |
| --- | --- |
| By Scott Mitchell | Thursday, November 29th 2012, 18:33 GMT |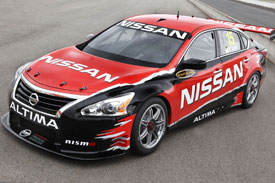 Rick Kelly will drive Nissan's new V8 Supercar challenger for the first time this weekend.
The Nissan Altima will be on display publicly at the Sydney Telstra 500 on Friday and Kelly, who won the title in 2006, will run the car's first laps on Sunday morning.
Built to the new 'Car of the Future' regulations by Kelly Racing, which changes to Nissan Motorsport for 2013, it will be on view in the V8 Supercar Pit Pavilion.
Kelly's brother Todd gave the Altima its first shakedown at Calder Park early in November.
"The interest in the Nissan Altima V8 Supercar has been overwhelming all year, especially now that we have unveiled the first car," said Kelly.
"So we are pleased to show fans our first Nissan Altima V8 Supercar, the car that will dawn the new era of V8 Supercars from 2013, at the final event of this season at the Sydney Telstra 500 this weekend."
Click here to read an in-depth analysis of Nissan's entry into V8 Supercars
The two-time Bathurst winner says being a part of its development makes him even more excited about the run than the fans.
"While I'm sure that the fans will be excited to see the Altima in the flesh for the first time, there's no doubt that the most excited person to hear this news confirmed is actually me," he said.
"I've been busting to get my first drive of the new Nissan all year long as we've been watching the car take shape in the various departments of our team workshop.
"So to get the chance to drive the Altima V8 Supercar in front of a crowd at the Sydney Olympic Park street circuit is going to be a fantastic buzz."