Brazilian GP: Sebastian Vettel insists fourth on grid no disaster
| | |
| --- | --- |
| By Jonathan Noble and Pablo Elizalde | Saturday, November 24th 2012, 19:35 GMT |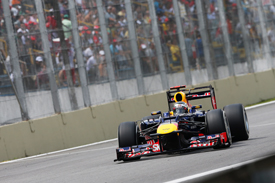 Sebastian Vettel says starting from fourth position is no disaster ahead of the championship-deciding Brazilian Grand Prix.
The Red Bull driver was beaten by the McLarens of Lewis Hamilton and Jenson Button and by his own team-mate Mark Webber.
The German, who is 13 points ahead of Ferrari's Fernando Alonso, reckons he can still have a strong race from the second row of the grid.
"We finished fourth today, which maybe is not the best position we could have got, but we can be quite happy and starting fourth is not a disaster," said Vettel, who starts three places ahead of Alonso.
"There are more people behind us than in front. I'm happy with fourth and there are plenty of opportunities for tomorrow.
"The second lap I was pretty happy, but unfortunately I wasn't quick enough. I was probably a bit shy here and there and dropped a bit of time. Mark had a good run in Q3 and on top of that the McLarens have been very quick all weekend, so it's something we expected going into qualifying."
Alonso's team-mate Felipe Massa will start right behind Vettel, but the world champion said he had no worries about what the Brazilian could do.
"I'm not worried," he said. "We have mirrors in the car but hopefully we won't have to use them. As soon as the lights go off we will try to attack the guys in front.
"On top of that there might be some things happening tomorrow, different to what the weekend has been so far, with the weather forecast being at is. I'm not looking left and right, to be honest."
Vettel admitted he had not extracted the maximum from his car after a mistake on his first flying lap, but denied suggestions that his error had come of the pressure he is under.
"To be honest, I made a mistake in the first run of Q3, but not because this is the last race or whatever. I was pushing and that's what I try to do all the time. I made a mistake and lost the momentum.
"I knew that I had one run left and it was quite important. It wasn't the lap of my life, but if you haven't got a lap in that's what you do."
CHAMPIONSHIP PERMUTATIONS
VETTEL WINS THE TITLE IF:
- He finishes in the top four
- He finishes fifth, sixth or seventh and Alonso doesn't win
- He finishes eighth or ninth and Alonso is third or lower
- He finishes 10th or worse and Alonso isn't on the podium
ALONSO WINS THE TITLE IF:
- He wins and Vettel is fifth or lower
- He is second and Vettel eighth or lower
- He is third and Vettel is 10th or lower