Sauber confident Gutierrez will prove his worth with F1 race seat
| | |
| --- | --- |
| By Jonathan Noble and Matt Beer | Friday, November 23rd 2012, 14:47 GMT |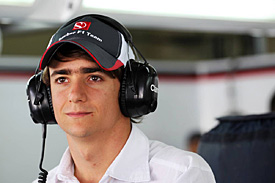 Sauber is confident that Esteban Gutierrez's pace will prove that the team was justified in promoting him into a race seat for the 2013 Formula 1 season.
The 21-year-old Mexican will be part of an all-new Sauber line-up next year, joining ex-Force India man Nico Hulkenberg to replace the McLaren-bound Sergio Perez and the dropped Kamui Kobayashi.
Gutierrez's appointment comes despite his two seasons in GP2 not living up to expectations following his GP3 title, and even though Kobayashi had shone with recent results such as his Japanese Grand Prix podium finish.
Team boss Monisha Kaltenborn pointed out that Kobayashi had not starred in GP2 before Sauber picked him up following his brief Toyota stint, and that there had also been accusations that Perez was no more than a pay driver.
"When Kamui came to the team he didn't have that much experience and we also got criticised for that," she said. "It was a similar situation with Sergio when we took him.
"Esteban we took as a young talented driver when he went into the GP3 Series from Formula BMW, because we feel he has the talent.
"Like we did now, especially with Sergio, the team did a good job in two years to get him where he is.
"The team thinks Esteban is very talented and now it will be up to us to provide him that kind of environment where he can show that talent and develop it."
Kaltenborn denied that Gutierrez's funding from his native Mexico was key to the driver decision.
"When it comes to Esteban and [team sponsor] Telmex, they are two different issues," she said.
"This question came up with Sergio and that was a very different situation. Unlike Sergio, Esteban is not coming from the Scuderia Telmex. Of course there is a certain connection there, because Telmex together with Carlos Slim has this vision for motorsport to establish in Mexico and Latin America, but clearly it is the team's decision to announce him as our race driver."
She believes Gutierrez will be better prepared as a rookie than Perez was because he has been under the team's wing for several seasons already.
Asked if she felt hiring a newcomer was a risk, Kaltenborn replied: "There is always a risk. We have been through the situation in our team's situation quite often and the most recent example was Sergio.
"But with Esteban the situation is a bit different because he has been associated with the team longer. He has been integrated, especially this year, much more into how the team works on the technical side and things like that."