Richard Petty says Phoenix NASCAR brawl was no big deal
| | |
| --- | --- |
| By Glenn Freeman | Tuesday, November 20th 2012, 12:15 GMT |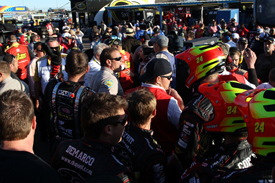 NASCAR legend Richard Petty believes that the recent fighting between the crews of Jeff Gordon and Clint Bowyer at Phoenix was "no big deal".
Gordon sparked controversy at Phoenix when he deliberately waited for Bowyer on track to retaliate after the pair had collided.
That second on-track clash led to a brawl in the pits, as Bowyer's crew tried to get to Gordon after he cost the latter any chance of winning this year's Cup title.
Petty dismissed suggestions that NASCAR needs more of those sorts of incidents, but he added that the fight did not require the level of scrutiny it received afterwards.
"I like those kinds of fights, it was just scuffling around," said the seven-time champion.
"It was entertaining. I had a bird's eye view - I was on top of the truck looking down and I said 'Get him, man!'
"It was enjoyable because I wasn't down there getting hit. The pushing and shoving is no big deal. They weren't fighting, they were wrestling."
The 75-year-old added that the fanfare around the incident was a result of the popularity of NASCAR in the modern era.
"Things like that happened from the first race," he said. "But they just didn't have the TV or that many people around.
"If that happened 40 years ago, there were five or six guys in the garage area. Here, there were hundreds.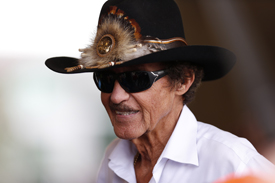 "So it wouldn't have been covered. Nobody would have said anything, and it would never have got into the press or on TV."
NASCAR chairman Brian France told the media at last weekend's Homestead finale that the officials will continue to let drivers make contact during races.
"We have a stated approach that this is a contact sport," he said. "We expect contact, especially late in the race.
"But I always say there are limits. Drivers know what those limits are, so it is very easy for everybody to figure that out, and we deal with it when we think those limits have been broken."
Gordon was fined, docked points and placed on probation by NASCAR for his on-track retaliation. That meant he was free to race at Homestead last weekend, where he took victory.