Homestead NASCAR: Defeated Jimmie Johnson proud of team
| | |
| --- | --- |
| By Dan Cross | Monday, November 19th 2012, 14:54 GMT |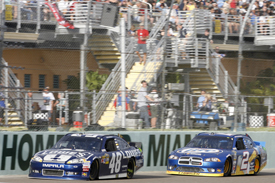 Jimmie Johnson believes that he and his Hendrick Motorsports crew should be 'proud' of their performance in the NASCAR Sprint Cup finale at Homestead, despite missing out on a potential championship victory.
Johnson, who needed to overturn a 20-point deficit to Brad Keselowski to claim his sixth title, had been poised to win the race following a two-tyre stop that catapulted him into the lead during the second caution.
That would have kept the pressure on Keselowski to finish in the 15th place he required in the event of a Johnson triumph.
During Johnson's final pitstop, however, a missing lug nut caused a delay and resulted in a subsequent penalty, before the 37-year-old was forced to retire with a transmission problem.
Despite this, Johnson said he was pleased that Hendrick did everything possible to stage a remarkable championship comeback after his Phoenix disaster.
"I'm proud of the fact we went out there and did what we said we could do, and we put the pressure on," he said.
"It doesn't take the sting away from losing the championship. It helps in some ways and it stings in others. It balances out."
Johnson was convinced that he and Hendrick had proved they were capable of winning the title, so was not too disheartened with the result, despite the pain of Phoenix lingering.
"We had the speed that we needed to have for 80 per cent of the Chase," Johnson said, "so it's hard to be down on myself or really down on where we finished.
"It takes an entire 10 races to win a championship. We hurt ourselves in Phoenix and that didn't help."