Macau WTCC: Yvan Muller beats Alain Menu as Rob Huff crashes
| | |
| --- | --- |
| By Peter Mills | Sunday, November 18th 2012, 04:31 GMT |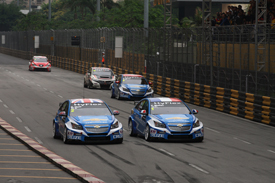 Yvan Muller claimed a thrilling victory in the opening race of Macau's 2012 World Touring Car Championship finale, as points leader Rob Huff sensationally retired.
Muller entered the meeting third in the title race, but Huff's disaster means all three factory Chevrolet drivers remain in world title contention ahead of race two.
In a tense fight over the closing laps, the third factory Chevrolet of Alain Menu harried Muller for the lead. Following their controversial Shanghai coming together, for the second race in succession the pair made contact.
Entering the top of Moorish on lap eight, a feisty Menu dived to Muller's inside, sending him sideways. The reigning world champion recovered the powerslide and subsequently edged out 0.9 seconds of breathing space at the chequered flag.
Muller had led the opening three laps at a relatively conservative pace, backing up the first six cars, before polesitter Huff outbraked the Frenchman on the inside of Lisboa to take the lead.
The Briton was forced to swerve defensively across the road on the exit as Muller counter-attacked, but in the next sequence of bends Huff extended a couple of car lengths advantage.
Moments later, Huff clattered the barriers on the twisty city section. The #2 Cruze was immediately crabbing with suspension damage, forcing Huff to pit for attention.
He continues to lead the drivers' standings on 395 points. Muller is now 17 points behind, with Menu third on 376.
Honda Racing JAS took its maiden WTCC podium thanks to a charging drive by Tiago Monteiro. The Portuguese did well to hang on to Menu's bumper, and was never seriously threatened by 2013 Honda team-mate Gabriele Tarquini's SEAT in fourth.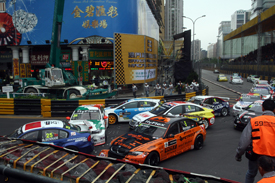 A typical Lisboa pile-up had resulted in a temporary WTCC car park on the first lap, in which only the top six drivers escaped delay.
All three Yokohama Drivers' Trophy championship contenders were involved in the Lisboa chaos. Points leader Norbert Michelisz sustained a broken front bumper and suspension damage in the crash, while title rival Pepe Oriola had to stagger back to the pits to retire with damage.
Suzuka double independents' class victor Stefano D'Aste came to a halt sideways across the track. The Italian eventually rejoined the action in an outlandishly mangled Wiechers-Sport BMW, before receiving a black and orange flag from race officials.
Having started three WTCC races in Macau from the Yokohama class pole, Hong Kong racer Darryl O'Young finally picked up his first Independent victory at the Guia circuit in fifth place.
Results - 9 laps:

Pos  Driver             Team/Car                    Time/Gap
 1.  Yvan Muller        Chevrolet                 23m08.977s
 2.  Alain Menu         Chevrolet                   + 0.915s
 3.  Tiago Monteiro     Honda                       + 1.297s
 4.  Gabriele Tarquini  Lukoil SEAT                 + 1.967s
 5.  Darryl O'Young     Bamboo Chevrolet           + 11.519s
 6.  Tom Coronel        ROAL BMW                   + 55.136s
 7.  Franz Engstler     Engstler BMW             + 1m04.037s
 8.  Fredy Barth        SUNRED SEAT              + 1m09.730s
 9.  Alex MacDowall     Bamboo Chevrolet         + 1m16.524s
10.  Tom Boardman       Special Tuning SEAT      + 1m22.194s
11.  Aleksei Dudukalo   Lukoil SEAT              + 1m22.372s
12.  James Nash         Arena Ford               + 1m23.053s
13.  Tom Chilton        Arena Ford               + 1m25.822s
14.  Fernando Monje     Tuenti SEAT              + 1m29.347s
15.  Andre Couto        Tuenti SEAT              + 2m12.605s
16.  Henry Ho           Five Auto BMW            + 2m19.429s
17.  Jo Rosa Merzsei    Engstler BMW             + 3m23.533s

Retirements:

     Filipe de Souza    China Dragon Chevrolet        7 laps
     Celio Alves Dias   China Dragon Chevrolet        7 laps
     Kei Cozzolino      ROAL BMW                      7 laps
     Ka Lok Mak         RPM BMW                       6 laps
     Kin Veng Ng        China Dragon Chevrolet        5 laps
     Rob Huff           Chevrolet                     4 laps
     Charles Ng         Engstler BMW                  4 laps
     Norbert Michelisz  Zengo BMW                     3 laps
     Stefano D'Aste     Wiechers BMW                  2 laps
     Eurico de Jesus    Five Auto Honda               1 laps
     Pepe Oriola        Tuenti SEAT                   0 laps
     Mehdi Bennani      Proteam BMW                   0 laps