Hendrick defends Gordon's retaliatory crash with Bowyer
| | |
| --- | --- |
| By Diego Mejia | Saturday, November 17th 2012, 14:37 GMT |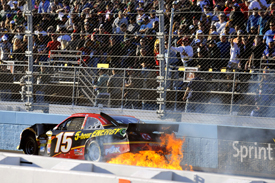 Jeff Gordon's team boss Rick Hendrick has defended his driver's retaliatory crash with Clint Bowyer at Phoenix last weekend, saying Bowyer had got away with denying his squad its 200th NASCAR Sprint Cup win at Martinsville earlier this year.
Gordon was penalised by NASCAR after deliberately driving into Bowyer's Michael Waltrip Racing Toyota in the closing stages last Sunday. The move was in retaliation for earlier contact, and caused a crash that also eliminated Joey Logano. Gordon and Bowyer's crews scuffled in the pitlane afterwards.
Back in April Bowyer made contact with race leader Gordon and pushed him into his team-mate Jimmie Johnson during a late restart at Martinsville, where Hendrick Motorsports was edging towards a milestone 200th win in an event it had dominated.
Hendrick was particularly keen to achieve its double century at Martinsville as several team members, including Rick Hendrick's brother John, died in a plane crash near the venue in 2004.
Rick Hendrick said the hurt of losing that Martinsville win was a stronger emotion than the joy of some of his championship victories. The team had to wait five more weeks before Johnson was able to deliver win number 200 at Darlington.
"At Martinsville this year, we was going for our 200th win," said Hendrick. "It was the first time I had my brother's wife there and the first time Jan Jackson, the representative of [sponsor] DuPont, was there since the crash.
"We had a photo session before the race, and we were all wanting to win more than anything, more than any championship. The 200th win at Martinsville meant so much to all of us because we lost so much there.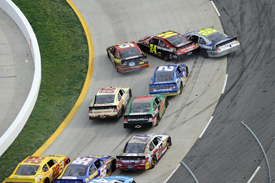 "And that was taken away from us. Both of our cars were wrecked on the last lap and next-to-last lap and it was by the #15 car [Bowyer]. You didn't see our guys go down there and fight in the pits; we didn't do any of that.
"I have never hurt as bad in my life leaving the racetrack as I did that day. It took me a week or so to get over it just because we had it in our grasp. And that's just emotions that we carry and nobody else."
Hendrick believes the Phoenix crash became more serious than Gordon intended.
"I don't think Jeff intended to wreck him that bad or wreck him at all," Hendrick argued. "[Just] move him, let him know he didn't like it. He sure didn't want to get the other cars involved.
"But you've got to go with the emotions that happened at that time, and there's a lot of things that happened along the way, and this guy has as much right to race for fifth or sixth in the points as somebody has to race for second.
"So I stand behind him no different than if my son got in trouble at school for a bully beating on him and he stuck up for himself."