Homestead NASCAR: Logano on pole, Keselowski beats Johnson
| | |
| --- | --- |
| By Diego Mejia | Saturday, November 17th 2012, 01:42 GMT |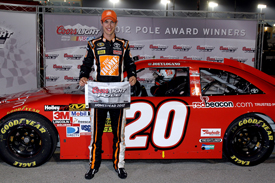 Joey Logano claimed pole position at Homestead in his final NASCAR Sprint Cup race for Joe Gibbs Racing, while points leader Brad Keselowski qualified third, seven places ahead of title rival Jimmie Johnson.
The result is Keselowski's best starting position of the Chase.
Logano, Keselowski's future team-mate at Penske Racing, had been fastest in practice earlier on Friday.
Running last in the qualifying order, Logano was able to back up his speed with a flying lap that beat the previous benchmark set by Richard Petty's Marcos Ambrose.
Despite mainly focusing on race set-up during practice, Keselowski was able to deliver his best qualifying performance for the past 13 races.
In the 10 Chase events, Johnson outqualified Keselowski six times, the Hendrick driver claiming three pole positions to his rival's none. Keselowski said his Homestead starting position therefore came as a surprise.
"I really had no expectation of putting on that solid a qualifying lap," said Keselowski. "We prepared for Homestead with the impression that we would have to come here and win the race and do all those things to win the championship.
"I think we were prepared to qualify drastically behind the #48 car [Johnson]."
Johnson was the fastest of the Hendrick drivers in the end but seemed disappointed to have missed the chance to put pressure on Keselowski.
"The best pressure I could put on him would be winning the pole. We didn't do that," said the five-time champion.
Last year's championship runner-up Carl Edwards was fourth while Ambrose's Petty team-mate Aric Almirola was a third Ford among the top five.
Wood Brothers' Trevor Bayne was the fastest of the non-guaranteed drivers in 20th. Reed Sorenson, Stephen Leicht, Jason Leffler and Joe Nemechek failed to make the field.
Pos  Driver              Team/Car                     Time     Gap
 1.  Joey Logano         Gibbs Toyota                 30.672s
 2.  Marcos Ambrose      Petty Ford                   30.797s  + 0.125s
 3.  Brad Keselowski     Penske Dodge                 30.841s  + 0.169s
 4.  Carl Edwards        Roush Fenway Ford            30.857s  + 0.185s
 5.  Aric Almirola       Petty Ford                   30.877s  + 0.205s
 6.  Clint Bowyer        Waltrip Toyota               30.901s  + 0.229s
 7.  Martin Truex Jr     Waltrip Toyota               30.920s  + 0.248s
 8.  Kyle Busch          Gibbs Toyota                 30.934s  + 0.262s
 9.  Mark Martin         Waltrip Toyota               30.954s  + 0.282s
10.  Jimmie Johnson      Hendrick Chevrolet           31.020s  + 0.348s
11.  Matt Kenseth        Roush Fenway Ford            31.038s  + 0.366s
12.  Kasey Kahne         Hendrick Chevrolet           31.040s  + 0.368s
13.  Greg Biffle         Roush Fenway Ford            31.047s  + 0.375s
14.  Jamie McMurray      Earnhardt Ganassi Chevrolet  31.069s  + 0.397s
15.  Jeff Gordon         Hendrick Chevrolet           31.081s  + 0.409s
16.  Dale Earnhardt Jr   Hendrick Chevrolet           31.129s  + 0.457s
17.  Sam Hornish Jr      Penske Dodge                 31.194s  + 0.522s
18.  Paul Menard         Childress Chevrolet          31.200s  + 0.528s
19.  Ryan Newman         Stewart-Haas Chevrolet       31.216s  + 0.544s
20.  Trevor Bayne        Wood Brothers Ford           31.275s  + 0.603s
21.  Juan Pablo Montoya  Earnhardt Ganassi Chevrolet  31.279s  + 0.607s
22.  David Stremme       Inception Toyota             31.293s  + 0.621s
23.  Kevin Harvick       Childress Chevrolet          31.296s  + 0.624s
24.  Regan Smith         Phoenix Chevrolet            31.303s  + 0.631s
25.  Michael McDowell    Parsons Ford                 31.309s  + 0.637s
26.  Kurt Busch          Furniture Row Chevrolet      31.347s  + 0.675s
27.  Ricky Stenhouse Jr  Roush Fenway Ford            31.376s  + 0.704s
28.  Casey Mears         Germain Ford                 31.385s  + 0.713s
29.  Mike Bliss          Humphrey Smith Toyota        31.417s  + 0.745s
30.  Landon Cassill      BK Toyota                    31.44 s  + 0.768s
31.  Dave Blaney         Baldwin Chevrolet            31.442s  + 0.770s
32.  Bobby Labonte       JTG Daugherty Toyota         31.454s  + 0.782s
33.  Jeff Burton         Childress Chevrolet          31.463s  + 0.791s
34.  David Ragan         Front Row Ford               31.472s  + 0.800s
35.  Tony Stewart        Stewart-Haas Chevrolet       31.490s  + 0.818s
36.  Josh Wise           Front Row Ford               31.497s  + 0.825s
37.  David Reutimann     Baldwin Chevrolet            31.538s  + 0.866s
38.  Travis Kvapil       BK Toyota                    31.610s  + 0.938s
39.  JJ Yeley            Max Q Chevrolet              31.623s  + 0.951s
40.  David Gilliland     Front Row Ford               31.641s  + 0.969s
41.  Denny Hamlin        Gibbs Toyota                 31.755s  + 1.083s
42.  Ken Schrader        FAS Lane Ford                31.863s  + 1.191s
43.  Scott Riggs         R3 Chevrolet                 31.636s  + 0.964s

Did not qualify:

     Reed Sorenson       Go Green Toyota              31.713s  + 1.041s
     Stephen Leicht      Circle Sport Chevrolet       31.754s  + 1.082s
     Jason Leffler       Humphrey Smith Toyota        31.758s  + 1.086s
     Joe Nemechek        NEMCO Toyota                 31.838s  + 1.166s