United States GP: Lotus energised by Abu Dhabi win - Romain Grosjean
| | |
| --- | --- |
| By Jonathan Noble | Friday, November 16th 2012, 15:26 GMT |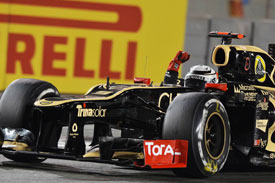 Lotus is heading in to the United States Grand Prix weekend better equipped to deliver success now that it has secured its first victory of the campaign.
That is the view of Romain Grosjean, who reckons that the Enstone-based outfit has a fresh spring in its step after Kimi Raikkonen finally produced a win in Abu Dhabi.
"I think honestly it is maybe not the one we were expecting to win," explained Grosjean, who suggested that Raikkonen's Yas Marina triumph had been a bit of a surprise.
"To win a race sometimes you need a bit of luck, and we had this extra help in Abu Dhabi with Kimi because Lewis [Hamilton] was quicker, and Sebastian [Vettel] was as well.
"But the race is the race and that is what counts. A few times this year we were really close to have it more consistently, but didn't get this extra chance - and we got it last time.
"And it is good for the team. With six flyaways, all back-to-back, everybody needs a bit of reward for the hard work they have been doing.
"The engineers, mechanics and factory guys - it gives us all an extra motivation to come here and enjoy the last races. And maybe the weight you have on your shoulders is gone, even if it is difficult to say exactly what it was."
Although Lotus has high hopes for its chances at Austin, the low temperatures being predicted for the weekend could prove to be an issue because the E20 has traditionally excelled only at hotter venues.
Grosjean thinks, however, that the team has made improvements to its car that should help it deal with it being cooler.
"I think it should be okay," he said. "It is quite a high energy track and, if you look at Silverstone, we were very, very competitive there.
"There is no reason we cannot do that again, and we have some tricks that could help."