Macau WTCC: Rob Huff storms to pole after setting new lap record
| | |
| --- | --- |
| By Peter Mills | Friday, November 16th 2012, 09:51 GMT |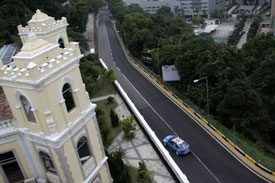 Rob Huff took another step towards securing his maiden World Touring Car Championship with a fourth pole position in as many years on the streets of Macau.
The Chevrolet driver, fastest in both sections of qualifying, eclipsed reigning world champion Yvan Muller by 0.722s with a new qualifying record of 2m29.422s.
Alain Menu, who is Huff's closest rival in the championship, will start third in the third of the Chevrolets.
"The guys at Chevrolet have done an incredible job over the last eight years," said Huff, "and to finish it off with a fourth pole position at Macau, a circuit that is one of my favourites, is something I am really happy about.
"I didn't pay any attention to what Yvan or Alain were doing, in fact I thought about disconnecting my radio as it was making a distracting buzzing noise."
The result increases Huff's lead over Menu in the standings by two points to 37, meaning a third-placed finish in Sunday's opening race would be enough to secure him the title.
Maintaining his practice deficit of 1.5s to Huff, Gabriele Tarquini claimed fourth place ahead of his 2013 Honda team-mate Tiago Monteiro.
Hong Kong racer Darryl O'Young claimed his first independents' pole in sixth overall. His Bamboo-Engineering mechanics worked through the night to repair a severely damaged Chevrolet chassis, a legacy of a large accident in Thursday's test.
Independents' points leader Norbert Michelisz was two places ahead of his nearest rival Pepe Oriola in seventh. Teenager Oriola had to dig deep to progress into Q2, only moving into the all-important top-12 in the final six minutes of Q1.
The first part of qualifying was interrupted when Fredy Barth crashed his SUNRED SEAT at Police Bend.
On the restart, Tom Coronel's attempts to improve on his 13th place, on the cusp of the Q2 cut-off, were scuppered first by traffic in the form of Mehdi Bennani and then by contact with the barriers on the exit of the Melco hairpin.
Britain's Alex MacDowall will start race two's reversed grid race from pole position, courtesy of qualifying 10th fastest in Q2.
Pos  Driver             Team/Car                Time       Gap
 1.  Rob Huff           Chevrolet               2m29.422s
 2.  Yvan Muller        Chevrolet               2m30.144s  + 0.722s
 3.  Alain Menu         Chevrolet               2m30.488s  + 1.066s
 4.  Gabriele Tarquini  Lukoil SEAT             2m30.936s  + 1.514s
 5.  Tiago Monteiro     Honda                   2m31.539s  + 2.117s
 6.  Darryl O'Young     Bamboo Chevrolet        2m31.643s  + 2.221s
 7.  Norbert Michelisz  Zengo BMW               2m31.670s  + 2.248s
 8.  Mehdi Bennani      Proteam BMW             2m32.157s  + 2.735s
 9.  Pepe Oriola        SUNRED SEAT             2m32.475s  + 3.053s
10.  Alex MacDowall     Bamboo Chevrolet        2m32.521s  + 3.099s
11.  Stefano D'Aste     Wiechers BMW            2m33.025s  + 3.603s
12.  Franz Engstler     Engstler BMW            2m33.107s  + 3.685s
13.  Tom Coronel        ROAL BMW                2m33.181s  Q1
14.  Tom Boardman       Special Tuning SEAT     2m33.270s  Q1
15.  Fredy Barth        SUNRED SEAT             2m33.358s  Q1
16.  James Nash         Arena Ford              2m34.792s  Q1
17.  Tom Chilton        Arena Ford              2m34.969s  Q1
18.  Aleksei Dudukalo   Lukoil SEAT             2m35.025s  Q1
19.  Charles Ng         Engstler BMW            2m35.180s  Q1
20.  Andre Couto        SUNRED SEAT             2m35.218s  Q1
21.  Fernando Monje     SUNRED SEAT             2m35.307s  Q1
22.  Kei Cozzolino      ROAL BMW                2m39.020s  Q1
23.  Jo Merzsei         Engstler BMW            2m40.785s  Q1
24.  Filipe de Souza    China Dragon Chevrolet  2m40.795s  Q1
25.  Henry Ho           Five Auto BMW           2m42.170s  Q1
26.  Kin Veng Ng        China Dragon Chevrolet  2m42.229s  Q1
27.  Celio Alves Dias   China Dragon Chevrolet  2m43.630s  Q1
28.  Eurico de Jesus    Five Auto Honda         2m43.816s  Q1
29.  Ka Lok Mak         RPM BMW                 2m46.200s  Q1