Fernando Alonso 'more relaxed' than in previous title fights
| | |
| --- | --- |
| By Jonathan Noble and Pablo Elizalde | Thursday, November 15th 2012, 18:43 GMT |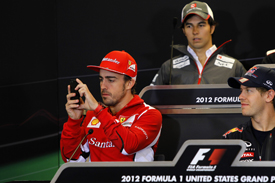 Fernando Alonso says he goes into the 2012 championship-deciding races "much more relaxed" than in his previous Formula 1 title showdowns.
The Spanish Ferrari driver arrives in the United States Grand Prix 10 points behind Red Bull rival Sebastian Vettel, who could clinch the title this weekend if he wins the race and Alonso finishes outside the top four.
Alonso, world champion in 2005 and '06, feels he is mentally better prepared to deal with the situation than ever before. He was defeated in final-round deciders in 2007 and '10.
"I'm much more relaxed, much more focused," said Alonso at Austin on Thursday. "In 2006 I arrived in the last race fighting with Michael [Schumacher] in Brazil and it was quite stressful, quite an intense weekend and not easy to get focused or to sleep or things like that, as it was a very emotional weekend.
"The year after, in 2007 was also stressful and not easy to do anything. In 2010 we arrived in Abu Dhabi fighting for the championship in the last race. I was much more calm there and more confident in things. The race was what it was, we were not winning at the end but feeling wise I was much more prepared.
"In these last two races I feel completely normal so I think it is a good experience. It is the fourth time we fight for the championship until the last race and you feel different, more concentrated to do the job."
The Ferrari driver, who has not won a race since the German GP in July, says he has no plans to change his approach to the weekend despite its importance.
"Nothing really changes in terms of preparation and approach for the weekend," he said. "Maximum concentration and effort from everyone in the team.
"We prepare some new parts we are bringing at every grand prix and hopefully test them tomorrow and get some feelings and feedback about that. Exactly the same as every other weekend."
Alonso said racing on an unknown track will not be an advantage for him, as he admits his car is still not the class of the field.
The two-time champion is very confident, however, that he will have a strong race on Sunday.
"It is not an advantage. I think we all will adapt very quickly in first practice and all have simulators to prepare for the race - it is the same as every race.
"I am very confident, I trust my team and I trust myself, and we are honest with ourselves. We know we don't have the quickest package out there, and our qualifying average this year is sixth or seventh, so if we qualify sixth or seventh people will say 'you wave bye bye to the championship' but it is our normal position.
"That is not our strong point, our point is to score more points than the others on Sunday and I am sure we will do that in the next two races."
Recap: Alonso in title deciders
by duty editor Matt Beer
Since becoming a Formula 1 title contender with Renault in the mid-2000s, Alonso has been involved in three final-round championship deciders, each for a different team.
He prevailed in the first, in 2006, but was defeated in the subsequent 2007 and 2010 showdowns. The Spaniard sealed his maiden title with three races to spare in 2005.
2006: Alonso defeats Schumacher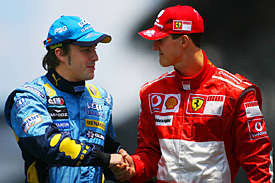 Fernando Alonso, then a Renault driver, looked like he was on the ropes in the 2006 contest, as Michael Schumacher and Ferrari crept up from behind and overhauled his early-season points advantage.
But when Schumacher's Suzuka engine failure handed Alonso victory in the penultimate round in Japan, the tables turned and the Spaniard was able to take a 10-point cushion into the Interlagos finale, meaning Schumacher had to win with Alonso failing to score.
In the event it was Schumacher in danger of missing the points. A fuel pressure problem in qualifying and a first-lap puncture left the German charging from last to fourth, while a sensible drive to second behind Felipe Massa sealed Alonso's second straight title.
2007: Raikkonen defeats Alonso and Hamilton
Amid the chaos of the spygate affair and the collapse of his relationship with the McLaren squad and team-mate Lewis Hamilton, Alonso arrived at Interlagos for his next title denouement four points behind Hamilton and three clear of outsider Kimi Raikkonen.
But as Ferrari dominated the race, Raikkonen's Massa-assisted win saw him leapfrog both McLarens and snatch an unlikely crown.
Alonso was a muted third, while Hamilton was hampered by an early gearbox glitch and could only finish seventh.
2010: Vettel defeats Alonso, Webber and Hamilton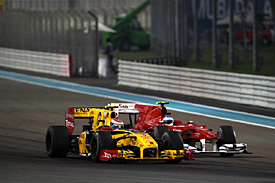 Three years on, Alonso's new foe Vettel was the man who swept past at the eleventh hour.
Helped by the rapid Red Bulls squandering a variety of chances, Alonso started the Abu Dhabi finale eight points clear of Mark Webber, 15 ahead of Vettel and 24 in front of long-shot Hamilton.
But when Ferrari's pit strategy dropped Alonso into traffic he was doomed to spend all evening following (a miscue Red Bull matched with Webber), the Ferrari man could only watch from behind Vitaly Petrov in a frustrated seventh as Vettel won the race and championship.