Macau F3: Antonio Felix da Costa takes provisional pole
| | |
| --- | --- |
| By Marcus Simmons | Thursday, November 15th 2012, 08:30 GMT |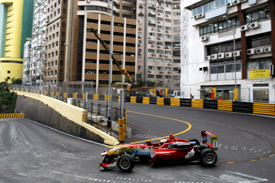 Antonio Felix da Costa grabbed provisional pole position for Formula 3's Macau Grand Prix, with the top three covered by just 0.021 seconds after Thursday's action.
The Portuguese, a star in Formula Renault 3.5 and GP3 this season, put the time in during a late restart to the session with just six minutes remaining.
Da Costa, Felix Rosenqvist and Carlos Sainz Jr all leapfrogged Macau rookie Alex Lynn, who had sensationally leapt to the top of the times on his first-ever day at the track.
It completed an impressive day for Red Bull Formula 1 tester da Costa and his Carlin Dallara-Volkswagen.
"In the end my tyres were a bit gone. When they were new I was in the middle of traffic, but I managed to put a good lap together and I'm happy to be on top," he said.
With rain predicted for Friday, the qualifying order could be already set for Saturday's preliminary race.
Rosenqvist claimed he was on a pole-winning lap in his Mucke Motorsport Dallara-Mercedes when the red flags flew, and made "a lot of mistakes" on his last-ditch effort.
Sainz, like Carlin team-mate da Costa, spent longer than Rosenqvist on his new tyres and was also losing grip towards the end.
Lynn rejoined the session late as the Fortec Motorsport team pondered whether to send his Dallara-Mercedes back out. A broken gear-cut meant he was having to lift off for upchanges, and he was unable to make a further improvement.
Euro Series/FIA European F3 champion Daniel Juncadella used only two new tyres on his Prema Powerteam Dallara-Mercedes to go fifth, and is confident of making progress, especially as he did not gain a tow along the flat-out stretch in sector one. He ended one place ahead of free practice pacesetter Felipe Nasr's Carlin machine.
Lynn's Fortec team-mate Felix Serralles was lying seventh on old tyres when the session was stopped, and the Puerto Rican felt that a top spot may be in the bag on new rubber, but he got caught in traffic after the restart.
Instead of moving up, he actually dropped down to ninth, as Alexander Sims continued his strong progress in T-Sport's Dallara-Nissan and Raffaele Marciello moved up in his Prema car.
British champion Jack Harvey struggled with a steering issue that meant he was using lock down the straights. The Carlin team tried to fix it during the session but he was stranded down in 18th place.
The red flag was caused by Andrea Roda smashing into the wall at R Bend. Already there had been two other offs, with Van Amersfoort Racing pair Dennis van de Laar and Lucas Auer each hitting the wall at Police in separate incidents.
Japanese champion Ryo Hirakawa did not take part in the session, as the RSS team continued to work flat-out to repair damage from his shunt in free practice.
To add insult to injury, both Hirakawa and Roda will be dropped three places on the grid due to failing 'to comply with weighing regulations' in free practice.
Pos  Driver                  Team/Car                       Time       Gap
 1.  Antonio Felix da Costa  Carlin Dallara-VW              2m13.400s
 2.  Felix Rosenqvist        Mucke Dallara-Mercedes         2m13.420s  + 0.020s
 3.  Carlos Sainz Jr         Carlin Dallara-VW              2m13.421s  + 0.021s
 4.  Alex Lynn               Fortec Dallara-Mercedes        2m13.718s  + 0.318s
 5.  Daniel Juncadella       Prema Dallara-Mercedes         2m13.800s  + 0.400s
 6.  Felipe Nasr             Carlin Dallara-VW              2m14.076s  + 0.676s
 7.  Alexander Sims          T-Sport Dallara-Nissan         2m14.085s  + 0.685s
 8.  Raffaele Marciello      Prema Dallara-Mercedes         2m14.266s  + 0.866s
 9.  Felix Serralles         Fortec Dallara-Mercedes        2m14.366s  + 0.966s
10.  Pascal Wehrlein         Mucke Dallara-Mercedes         2m14.397s  + 0.997s
11.  Daniel Abt              Carlin Dallara-VW              2m14.433s  + 1.033s
12.  Tom Blomqvist           Euro International Dallara-VW  2m14.798s  + 1.398s
13.  Pipo Derani             Fortec Dallara-Mercedes        2m14.819s  + 1.419s
14.  Hannes van Asseldonk    Prema Dallara-Mercedes         2m14.837s  + 1.437s
15.  Will Buller             Carlin Dallara-VW              2m14.855s  + 1.455s
16.  Harry Tincknell         Fortec Dallara-Mercedes        2m14.975s  + 1.575s
17.  Jazeman Jaafar          TOM's Dallara-Toyota           2m15.200s  + 1.800s
18.  Jack Harvey             Carlin Dallara-VW              2m15.562s  + 2.162s
19.  Sven Muller             Prema Dallara-Mercedes         2m15.625s  + 2.225s
20.  Kevin Korjus            Double R Dallara-Mercedes      2m15.768s  + 2.368s
21.  Jimmy Eriksson          Double R Dallara-Mercedes      2m16.062s  + 2.662s
22.  Hideki Yamauchi         B-Max Dallara-Toyota           2m16.461s  + 3.061s
23.  Mitchell Gilbert        Mucke Dallara-Mercedes         2m16.714s  + 3.314s
24.  Lucas Auer              Van Amersfoort Dallara-VW      2m16.845s  + 3.445s
25.  Lucas Wolf              URD Dallara-Mercedes           2m17.672s  + 4.272s
26.  Yuichi Nakayama         TOM'S Dallara-Toyota           2m17.705s  + 4.305s
27.  Luis Sa Silva           Angola Dallara-Mercedes        2m18.004s  + 4.604s
28.  Andrea Roda             Jo Zeller Dallara-Mercedes     2m18.140s  + 4.740s
29.  Dennis van de Laar      Van Amersfoort Dallara-VW      2m19.335s  + 5.935s
30.  Ryo Hirakawa            RSS Dallara-Toyota