Brad Keselowski cautious about title chances despite Chase lead
| | |
| --- | --- |
| By Diego Mejia | Wednesday, November 14th 2012, 09:45 GMT |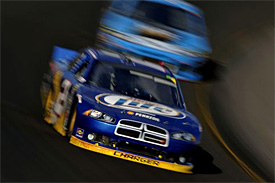 Brad Keselowski remains cautious about his prospects of winning his maiden Sprint Cup title next weekend despite a healthy 20-point lead to Jimmie Johnson in the championship.
The 28-year-old finished sixth in Sunday's penultimate Chase round, where his main title rival endured a tough afternoon after hitting the wall due to deflating right-front tyre that sent him to the garage for lengthy repairs, resulting in a 32nd-place finish.
Keselowski led the race twice for a total ten laps but strategy calls meant he had to fight to get back his track position a number of times, including recovering from stalling his car in an early two-tyre stop.
The Penske driver was glad to have regained the lead in the standing the he held for the first time when the play-off started, but believes the title battle is still far from settled.
"Well, certainly if you have the choice you always want to be in the lead of the points, especially in the closing races, so I'm thankful for that," said Keselowski.
"But I also know that the troubles that they had are the same troubles that we could have next week, and so you try not to take anything for granted.
"You try to just focus on what lies ahead, and we've got to do the best job we can at Homestead. That's where my focus is."
Keselowski, the 2010 NASCAR Nationwide Series champion, could deliver Penske Racing's maiden Sprint Cup title.