NASCAR Phoenix: Michael Waltrip slams Gordon's "cowardly" move
| | |
| --- | --- |
| By Diego Mejia | Monday, November 12th 2012, 14:30 GMT |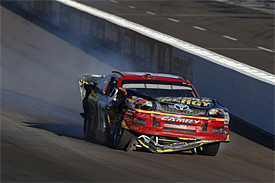 Team owner Michael Waltrip was heavily critical of Jeff Gordon after the clash between the four-time champion and rival Clint Bowyer on Sunday at Phoenix.
Waltrip, whom Bowyer drives for, blamed Gordon for interfering with the championship battle, as his driver was set to be a contender heading into the season finale before the incident.
"I've never seen anything like what Jeff Gordon did to a guy racing for a championship," said Waltrip.
"Cowardly, chicken move by someone that has raced for championships before, and knows how important every position is.
"They barely brushed on the back straightaway and he waits - he purposely waits and tells everybody he's waiting and wrecks our car and our hopes for racing for a championship.
"I'm beside myself. I can't believe that he would get involved in the championship battle."
Rival driver Joey Logano also said he had "lost a lot of respect" for Gordon after he was involved in the clash between him and Bowyer.
The Joe Gibbs Racing driver was set for a top-five finish when he got collected in the incident ignited by Gordon, who was retaliating for a previous clash with Bowyer.
In the end Logano was credited with a 27th-place finish in what was his penultimate race for JGR before moving to Penske Racing for 2013.
"When I was young I thought @JeffGordonWeb [Gordon] was the best driver. Now I've lost a lot of respect for him. #verydumb," Logano wrote following the race on his Twitter feed.
Logano later criticised Gordon for ruining his race and not thinking about the consequences for others of what he was trying to do against Bowyer.
"We had a top-five finish just taken away from us because another driver wanted to settle a score and didn't think about the other people that would get caught up in it, " he said.
"And that is exactly what happened. We got caught up in it."
"We were closing on those guys for a top-five finish and then another driver just decided to take matters in his own hands and that was that. It was disappointing and it was something I will remember for a long time."
Race winner Kevin Harvick joked when asked about the incident, saying NASCAR has a history for such clashes being part of what the sport is.
"The sport was made on fights," said Harvick. "We should have more fights. I like fights. They're not always fun to be in. Sometimes you're on the wrong end. But fights are what made NASCAR what it is."