Jimmie Johnson sure of fair NASCAR title fight with Brad Keselowski
| | |
| --- | --- |
| By Diego Mejia | Friday, November 9th 2012, 20:41 GMT |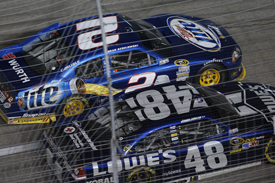 Jimmie Johnson is confident NASCAR Sprint Cup title rival Brad Keselowski will race him fairly in the remaining two races of the Chase following their hard battle for victory last week at Texas.
Although Johnson still believes Keselowski was "aggressive" in trying to defend the lead during the final two restarts last Sunday, the Chase leader is sure his Penske rival would not go as far as deliberately settling the title fight with a crash.
Johnson acknowledged that Keselowski has had a difficult history with some other drivers, notably Carl Edwards and Denny Hamlin. But he insisted he did not expect anything similar in their championship battle.
"I know our history, between Brad and myself we haven't had that," said Johnson.
"So I've always raced him with a clear mind and not worrying. And sure racing stuff happens, you make mistakes, I've made plenty myself but it never crossed my mind that he would make an intentional move to dump me.
"There's only a few people out there who are like that and I think in today's world there's probably less, like it or not. It's just the way it is, people race really, really hard and I guess Brad did [at Texas] but to just go in the corner and dump someone, man that's tough to do."
Johnson praised Keselowski for walking into victory lane at Texas to congratulate him on victory.
When Johnson thanked him for the gesture via Twitter, Keselowski replied "Thanks for helping me out in Road Atlanta", in reference to Johnson's prompt assistance at the scene of his 2011 testing crash, in which he sustained an ankle injury.
"I'm glad that that meant something for him, it wasn't my intention [to [prompt a reply]," said Johnson
"He knows where I am with my morals and that I do care about others and I don't think the situations are identical by any means but the fact that he is the only driver that came to victory lane to shake my hand after the race in Texas, I just think that took a lot of class."
Keselowski heads into Sunday's penultimate Chase round seven points behind Johnson in the standings as he fights for the Cup title for the first time.