Abu Dhabi GP: Sebastian Vettel not surprised to reach podium
| | |
| --- | --- |
| By Jonathan Noble and Jamie O'Leary | Sunday, November 4th 2012, 15:35 GMT |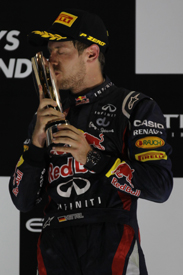 Finishing third in the Abu Dhabi Grand Prix came as no surprise to Sebastian Vettel, despite the world champion starting the race from the pitlane.
After being excluded from qualifying over a fuel issue, the Red Bull driver was forced to drive through the pack in a bid to prevent Fernando Alonso reducing his Formula 1 championship lead.
With Alonso finishing second - only one place ahead of Vettel - the Spaniard reduced his advantage by only three points.
Vettel now leads the standings by 10 points with 50 available from the final two races.
Red Bull pitted Vettel under safety car conditions on lap 13, by which time he had made it onto the verge of the top 10.
That allowed a front wing, which had been damaged in contact with Bruno Senna on the first lap and with a marker board during a safety car near-miss, to be changed and also enabled Vettel to switch from medium to soft tyres.
He climbed to second before stopping again and dropping to fourth, but reaped the benefit of another safety car period to close onto the tail of the lead trio.
When asked if he thought a podium was achievable at the start of the race, Vettel said: "Yes I did to be honest with you.
"After the first couple of laps that target was drifting a little bit away.
"I had a messy start, wanted to get through cars quickly and damaged the front wing, and under the safety car had a bit of a mistake with Daniel Ricciardo, because he was braking on the straight and we nearly touched."
Vettel said that the highlight of his afternoon was the late-race battle with Jenson Button for the final podium position.
The German stole the place from the McLaren driver after tucking into his slipstream in the second DRS zone and then driving around the outside of him into the following left-hander.
"I had a fantastic race, the safety car helping here and there, and in the end there was a nice fight with Jenson, who was difficult to pass," said Vettel.
"I expected to have a little easier time passing slower cars before, but I squeezed my way past.
"It was a thrilling grand prix, up and down all the time and it's very nice to stand here and pick up trophy."