Abu Dhabi GP: Alonso got 'maximum from the car' on way to seventh
| | |
| --- | --- |
| By Matt Beer | Saturday, November 3rd 2012, 14:29 GMT |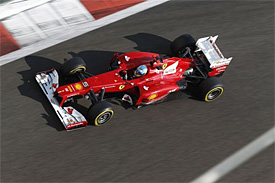 Fernando Alonso believes he extracted every bit of speed possible from his Ferrari as he struggled to seventh on the grid for the Abu Dhabi Grand Prix.
As a tough weekend for the world championship contender and his team continued, Alonso saw his initial provisional fourth place in the Yas Marina starting line-up become seventh as others improved. His Ferrari team-mate Felipe Massa is only ninth.
Alonso's title rival Sebastian Vettel, who currently holds a 13-point lead with three rounds remaining in the 2012 Formula 1 title race, starts third.
"I think we were not competitive today, but myself, personally, I'm happy with the performance in qualifying," said Alonso.
"We extracted the maximum from the car.
"I did a 1m41.5s in Q2, a 1m41.5s on my first lap in Q3 and a 1m41.5s on my second lap in Q3. I think I could do the lap 100 times and do a 1m41.5s each time because that was the maximum today.
"Unfortunately there were six people faster than us."
Having progressed from fifth on the grid to second in last weekend's Indian GP, Alonso is optimistic he will gain ground in the Abu Dhabi race as well.
"Normally the pace improves on Sunday so I hope that will be the case," he said.
* Click here to follow the latest news about Ferrari's upgrades and all the other technical developments in AUTOSPORT's new rolling F1 Tech Blog