Texas NASCAR: Jimmie Johnson maintains form with pole
| | |
| --- | --- |
| By Diego Mejia | Friday, November 2nd 2012, 22:47 GMT |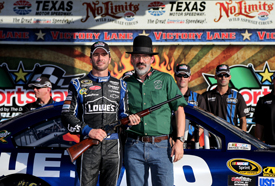 Jimmie Johnson kept his momentum running from last week's Martinsville win to claim pole position for Sunday's NASCAR Sprint Cup Chase race at Texas.
The Hendrick driver bounced back from being only 27th fastest in Friday practice to set a flying lap of 28.261 seconds at an average speed of 191.076 mph.
It stood unbeaten for the rest of the session as another 26 subsequent cars attempted, but failed, to knock the Chase leader from pole.
"It was a white knuckle lap," admitted Johnson. "A couple of opportunities kind of lost control there but staying on the throttle definitely kept the car pointing in the right direction and I blasted off a great lap.
"We weren't totally happy when practice ended but we felt a lot better than what the chart showed."
Roush Fenway's Greg Biffle came closest to Johnson's benchmark, running a lap a tenth of a second slower then the five-time champion managed.
Joe Gibbs Racing's Kyle Busch, title contender Clint Bowyer and his Michael Waltrip Racing team-mate Martin Truex Jr rounded out the top five, followed by Busch's team-mate Joey Logano.
Penske's Brad Keselowski, Johnson's main title rival, had his best qualifying since the Chase started and will line up eighth on the grid, beside Wood Brothers' Trevor Bayne who was seventh fastest at the wheel of the #21 Ford, the best-placed among the non-guaranteed drivers.
Roush Fenway duo Carl Edwards and Matt Kenseth completed the top 10.
Stephen Leicht, Kelly Bires and David Stremme failed to make the field.
Pos  Driver              Team/Car                     Time     Gap
 1.  Jimmie Johnson      Hendrick Chevrolet           28.261s
 2.  Greg Biffle         Roush Fenway Ford            28.364s  + 0.103s
 3.  Kyle Busch          Gibbs Toyota                 28.402s  + 0.141s
 4.  Clint Bowyer        Waltrip Toyota               28.411s  + 0.150s
 5.  Martin Truex Jr     Waltrip Toyota               28.422s  + 0.161s
 6.  Joey Logano         Gibbs Toyota                 28.457s  + 0.196s
 7.  Trevor Bayne        Wood Brothers Ford           28.480s  + 0.219s
 8.  Brad Keselowski     Penske Dodge                 28.491s  + 0.230s
 9.  Carl Edwards        Roush Fenway Ford            28.500s  + 0.239s
10.  Matt Kenseth        Roush Fenway Ford            28.502s  + 0.241s
11.  Mark Martin         Waltrip Toyota               28.527s  + 0.266s
12.  Denny Hamlin        Gibbs Toyota                 28.530s  + 0.269s
13.  Kasey Kahne         Hendrick Chevrolet           28.573s  + 0.312s
14.  Aric Almirola       Petty Ford                   28.575s  + 0.314s
15.  Marcos Ambrose      Petty Ford                   28.583s  + 0.322s
16.  Jeff Gordon         Hendrick Chevrolet           28.602s  + 0.341s
17.  Sam Hornish Jr      Penske Dodge                 28.628s  + 0.367s
18.  Kurt Busch          Furniture Row Chevrolet      28.663s  + 0.402s
19.  Dale Earnhardt Jr   Hendrick Chevrolet           28.669s  + 0.408s
20.  Casey Mears         Germain Ford                 28.672s  + 0.411s
21.  Tony Stewart        Stewart-Haas Chevrolet       28.717s  + 0.456s
22.  Jeff Burton         Childress Chevrolet          28.724s  + 0.463s
23.  Kevin Harvick       Childress Chevrolet          28.757s  + 0.496s
24.  Jamie McMurray      Earnhardt Ganassi Chevrolet  28.790s  + 0.529s
25.  Juan Pablo Montoya  Earnhardt Ganassi Chevrolet  28.810s  + 0.549s
26.  AJ Allmendinger     Phoenix Chevrolet            28.817s  + 0.556s
27.  Paul Menard         Childress Chevrolet          28.823s  + 0.562s
28.  JJ Yeley            Max Q Chevrolet              28.836s  + 0.575s
29.  Bobby Labonte       JTG Daugherty Toyota         28.842s  + 0.581s
30.  David Gilliland     Front Row Ford               28.899s  + 0.638s
31.  Scott Speed         Leavine Ford                 28.899s  + 0.638s
32.  Danica Patrick      Stewart-Haas Chevrolet       28.948s  + 0.687s
33.  David Ragan         Front Row Ford               28.958s  + 0.697s
34.  Mike Bliss          Humphrey Smith Toyota        28.959s  + 0.698s
35.  Josh Wise           Front Row Ford               28.968s  + 0.707s
36.  Ryan Newman         Stewart-Haas Chevrolet       28.975s  + 0.714s
37.  Michael McDowell    Parsons Ford                 29.022s  + 0.761s
38.  Travis Kvapil       BK Toyota                    29.053s  + 0.792s
39.  Reed Sorenson       Humphrey Smith Toyota        29.077s  + 0.816s
40.  Dave Blaney         Baldwin Chevrolet            29.204s  + 0.943s
41.  Landon Cassill      BK Toyota                    29.287s  + 1.026s
42.  Ken Schrader        FAS Lane Ford                29.696s  + 1.435s
43.  Joe Nemechek        NEMCO Toyota                 29.097s  + 0.836s

Did not qualify:

     Stephen Leicht      Circle Sport Chevrolet       29.173s  + 0.912s
     Kelly Bires         Go Green Ford                29.494s  + 1.233s
     David Stremme       Inception Toyota             30.568s  + 2.307s