Nissan completes V8 Supercar shakedown at Calder Park
| | |
| --- | --- |
| By Jamie O'Leary | Friday, November 2nd 2012, 11:41 GMT |
Nissan's new V8 Supercar had its shakedown test at Calder Park on Friday morning.
The Altima, which was launched publicly earlier this week, completed a number of systems checks and aero tests in the hands of Todd Kelly, who will race the car next year, and Nathan Pretty.
Kelly and his brother Rick own and drive for the Kelly Racing team that will run the car next year. He said that despite encouraging signs, the car is still a long way from its final specification.
"The Altima ran amazingly well today. I jumped in and had the very first three laps in the car," he said.
"The car isn't in race trim yet, so there are no brake ducts and a lot of specification that we would actually race with is not what's in the car.
"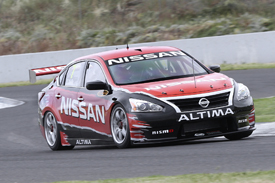 The suspension for the aero testing is different as well, so I didn't really tip it into the corners. Plus I've only got one arm to steer it with [due to a shoulder injury that has ruled him out of the remainder of the V8 season]."
The Kelly squad ran the Altima - which is built to the series' new Car of the Future regulations - alongside one of its existing Holden Commodores for the straightline tests, using the latter machine as a reference point for its aero figures. James Brock drove the Commodore.
Rick Kelly was unavailable to drive as he is currently in the UAE for this weekend's V8 round at Yas Marina. Todd Kelly is being replaced by Tim Blanchard for the remainder of the year due to his injury.