Red Bull's Horner wants no regrets from 2012 season run-in
| | |
| --- | --- |
| By Jonathan Noble | Friday, November 2nd 2012, 09:46 GMT |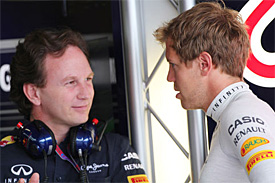 Red Bull boss Christian Horner says all he wants from his outfit in the final three races is no regrets that it could have done a better job.
With Sebastian Vettel and his team chasing a hat-trick of drivers' and constructors' titles, the squad is determined not to ease off in its efforts that have already resulted in four straight victories.
Horner has reiterated that his team is maintaining its approach of dealing with one race at a time, as he said things were too finely poised for the outfit to rule out being forced to take the fight to the season finale in Brazil.
"I think it is so difficult to predict that kind of thing," he said, when asked about his desire to avoid the title battle being decided in a potential lottery in Brazil.
"I would have liked it wrapped up at Silverstone, but the chances of that are zero. You have just got to take each weekend as they come.
"I think it would have been difficult to envisage that we would be coming to Abu Dhabi 13 points ahead of Fernando after the summer break, when Sebastian was trailing by about 40 points.
"So the fact that we have worked hard to get ourselves into this position is great. It is now the best of three effectively, and we have to make sure that we don't look back after three races and say that we didn't give it our very best. That is what we will be aiming to do."
The form of the RB8 has left Red Bull as clear favourites for victory in Abu Dhabi, but Horner insists that things are much closer on track that the team's rivals claim.
"There is no room for complacency within the team, and there is not one individual who will be thinking in that manner," he said. "We have seen F1 circumstances change quickly this year and form between cars, teams and drivers swings quickly.
"We are determined to get the most we can out of this weekend but going into this weekend there is no prerequisite that this is going to suit our car.
"Our determination is to try and make sure we do everything we can. How that compares we will see on Sunday afternoon."