Alonso wants to push Red Bull to breaking point
| | |
| --- | --- |
| By Jonathan Noble and Matt Beer | Thursday, November 1st 2012, 14:06 GMT |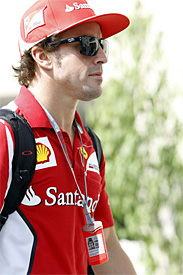 Fernando Alonso believes pushing Sebastian Vettel and Red Bull to breaking point in the remaining grands prix of 2012 will be key to turning the Formula 1 title race around.
Vettel's streak of four consecutive victories has given him a 13-point lead heading into 2012's three-race denouement.
Despite being defeated by his rival again in India last weekend, Alonso declared he was still "100 per cent confident" of championship victory.
Speaking to reporters in Abu Dhabi on Thursday, he emphasised that the potential for Red Bull fragility was a key point Ferrari planned to capitalise on.
"Mechanical failures are always in the air. It is not only for them, it is for all of us," Alonso said.
"We know that we need to concentrate on our car, on our driveability and make sure that we have a very strong car that finishes all three races with no mechanical problems. If we do [have problems] it will be very difficult to fight for the championship.
"We know that Red Bull sometimes is a little bit more fragile. We saw in the last race [Mark] Webber lost KERS, etc.
"So we need to push them. We need to be at the limit all the race through, because they had easy races.
"If the KERS fails in Vettel's car then nobody notices because he is 10 seconds in front. So we cannot do another race with them 10 seconds in front, we need to be right there."
Although he expects Ferrari's pace to keep improving, after encouraging signs in India, Alonso suspects Red Bull will still have some degree of pace advantage this weekend.
"There are some new parts coming which we will have to check tomorrow," he said.
"We don't think we will close the gap completely from India so that five days later in Abu Dhabi we will be competing with them with the same performance.
"I think there is not any magic button in F1 or any magic part.
"We'll try to get closer to put some more pressure on. We want to be so close to them to take any opportunity where they don't do things perfectly.
"So we need to find perfection this weekend, and these next three weekends, and be very close to them so we can attack for the race."
Alonso also dismissed suggestions in the Italian press that he had been involved with a row with Ferrari technical chief Pat Fry in India.
"That was a very nice invention from the Italian media," said Alonso.
"It was quite creative to be honest - but it is all history. Now or later I will speak to him [the journalist] to understand a little bit better how he came up with this imagination.
"I think nothing is really frustrating. We know, and it is a fact, that we are slower than Red Bull, but we all agree on this - the team, me, our fans, everyone knows this.
"We are working very hard and are very united to improve this situation."