Enna Superstars: Liuzzi apologises to team for losing title over clash
| | |
| --- | --- |
| By Andrew van Leeuwen | Sunday, October 28th 2012, 17:46 GMT |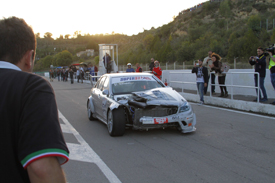 Defeated International Superstars Series title contender Tonio Liuzzi has apologised to his CAAL Racing team for getting mixed up with "dangerous driver" Andrea Larini in the finale at Pergusa - which cost him the crown.
Liuzzi was seemingly cruising towards the title during Sunday's second race, needing only to finish fifth or better after his chief rival, KMS Audi's Johan Kristoffersson, was taken out on the first lap.
But, with just five minutes to go, Liuzzi was hit twice by Larini's Romeo Ferraris Mercedes, dropping him out of the top five and out of contention.
It wasn't the first time that the pair had clashed this season; at Spa-Francorchamps, Liuzzi nudged Larini of the circuit while they fought over second place in race two.
"I'm okay. It's a shame that we lost the championship, but we knew from the start that Larini is a dangerous driver," Liuzzi told AUTOSPORT.
"I just wanted to finish fifth. My plan was to let [Larini] go so I could finish fifth and win the championship, because everything was going to plan. But unfortunately in this category, you are mixing professionals with amateurs, and sometimes you are mixing racing cars with dodge 'em cars. He is always complaining this guy, so I was out of control.
"At the end of the day, I'm still happy because everybody saw what happened. I'm basically the winner of the championship, but the numbers didn't say so.
"I'm more upset for the team and the guys, because we were working really hard. Even though this race wasn't the most competitive for us, we were still achieving good results. This is not a sporting way for it to end.
"It's a shame, but now we're all looking forward to the future. Me, and my team, we all worked hard this year."
Larini denied that there was any foul play when quizzed by AUTOSPORT.
"It was just an incident," he said. "When I braked, I lost control of the car and I crashed with Liuzzi. It was absolutely not intentional."
As a result of the crash, Kristoffersson was able to wrap up the 2012 International Superstars Series, having already taken Rookie of the Year and the Italian Series earlier in the day.