Christian Horner: Red Bull dominance must not lead to complacency
| | |
| --- | --- |
| By Jonathan Noble | Sunday, October 28th 2012, 17:17 GMT |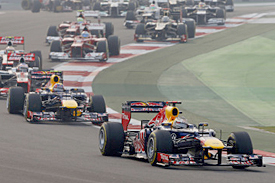 Red Bull still needs to deliver three 'perfect' race weekends if it is going to pull off another world championship title according to team principal Christian Horner, despite the team's recent run of dominance.
Horner, who has watched Sebastian Vettel win the last four grands prix and build a 13-point advantage over his nearest title rival Fernando Alonso, insists the outfit must not take it for granted that its record-breaking run of form will continue to the end of the season.
"We certainly cannot afford to be complacent because Fernando Alonso keeps turning up," explained Horner, after Vettel and Mark Webber delivered a one-three finish in the Indian Grand Prix.
"He did a strong race today, and it was a shame we couldn't keep Mark [Webber] ahead of him, as he had a KERS issue from lap 20.
"We have got a great lead now in the constructors' championship but it is only 13 points in the drivers'. We have managed to eke out a gap and, considering where we came from four races ago, it is impressive.
"But we have to keep that momentum going. It is the first time Seb has won four races in succession, and it was an incredible performance from him this weekend.
"With 75 points available from three races, it is going to be crucial for us to have perfect weekends."
While Alonso continues to insist that he is '100 per cent convinced' he will win the title this year, Horner says that his outfit is refusing to build up its own prospects.
"Talk is cheap at the end of the day," he said. "I think it is down to what you do on the track.
"We can all prophesise, but it is a question of our focus now being on Abu Dhabi to extract the most out of the car, the drivers, the strategy, and the reliability that we can. It is going to be a question of having three perfect weekends."
He added: "Fernando is a quality driver and Ferrari are a quality team, and they are doing a strong job.
"He is remarkably consistent and we are going to have to perform at our very, very best if we are going to maintain our lead ahead of him.
"We have worked hard to get into this position and there is a real determination within the team to carry this momentum into the remaining three races."