Indian GP: Button expecting no repeat of tyre issues in Abu Dhabi
| | |
| --- | --- |
| By Simon Strang | Sunday, October 28th 2012, 14:27 GMT |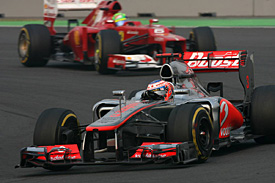 Jenson Button does not expect to encounter the same extreme soft tyre wear that he reckons cost him a chance to fight at the front of the Indian Grand Prix when Formula 1 resumes battle in Abu Dhabi in a week's time.
The Briton, who finished a distant fifth, revealed after the Buddh race that his McLaren suffered significant wear on the front option tyres in the first stint.
Such was the extent of the issue that he was unable to keep with pace with Fernando Alonso or team-mate Lewis Hamilton. This after he had dramatically fought his way past them both on the opening lap.
"I think both McLarens struggled on that softer tyre, but I really struggled and I couldn't keep the guys behind me," said Button. "I was really struggling with the rear movement.
"I don't know if it is because I had more laps on my option tyre after qualifying but I destroyed the fronts and I was on the canvas very early on in the stint.
"So it was tricky and then I got stuck behind [Romain] Grosjean which cost me time but I was never really beat the cars in front. The last stint was good, but being 10 or 11s behind made it impossible to catch them."
Button believe that the problems he endured could be circuit-specific with India being one of only a few races that tends to prove harder on front tyres than rears, which punished him more than Hamilton because of his tendency towards understeer.
"I always end up with more understeer than Lewis, maybe it's just the way we drive, even if we take out more understeer with the car, I always seem to struggle with understeer," said Button. "We'll look at the data and work out why we are not quick enough on that tyre.
"It's a very different circuit in Abu Dhabi. This circuit is front limited, whereas Abu Dhabi and most other circuits are rear limited so it is a very different balance that we will have and a different limitation which will probably help us.
"I think some of it was not being able to do a long run on Friday so trying to find a set-up for that tyre was always going to be difficult. The prime was a lot easier because we did a lot more laps on it. The car came alive on the prime tyre but it was too late and the guys were too far ahead."
Button set the fastest lap of the race on the last lap, and reckoned that this, along with that first lap dice, were the high points of an otherwise disappointing day.
"The first lap was great," said Button. "I got past Lewis at the start and then he dived up the inside of me at Turn 3. I was trying to get a good exit off the straight to have a go at Mark [Webber in second place], but Lewis jumped up the inside and then we were side-by-side on the backstraight, trying to get the tow off Mark.
"And then Fernando came on the inside and tried the move, but it was all quite a lot of fun.
"That was the highlight of my race and getting the fastest lap on the last lap as well. I know that's something that other people [Vettel] always try and get.. he did win the race but I'll give him that one."