Bernie Ecclestone pushing for Formula 1 budget cap by 2014 season
| | |
| --- | --- |
| By Jonathan Noble | Saturday, October 27th 2012, 06:03 GMT |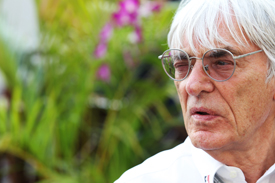 Formula 1 supremo Bernie Ecclestone is making a fresh push to introduce a budget cap in the sport as a means of ensuring costs are kept under control.
As discussions continue to try and frame a deal for the FIA to police the current Resource Restriction Agreement, high level sources have revealed that Ecclestone has told teams he is serious about a move to impose a complete cost control in time for the 2014 season.
During Monday's meeting in Paris between team principals, the FIA and Ecclestone, and in a subsequent meeting in the Indian Grand Prix paddock, Ecclestone put forward his plans for the budget cap.
While a budget cap move has not received support from teams in the past - because it would result in a drastic cut in their spending power – Ecclestone is planning to set the starting limit as high as £155 million ($250 million USD).
This would be around the figure that the current top teams are spending – with Red Bull's recent accounts lodged at companies house showing a £176 million turnover for all its activities.
Red Bull team principal Christian Horner believes that a budget cap would be a more suitable solution to cost control than the current RRA.
"Ultimately an overall cap that captured all activities of an entrant would be a better way of looking at controlling costs than what is currently proposed," he told AUTOSPORT. "I think the problem with what is proposed is different entities are treated in different ways, which is our major concern."
The biggest hurdle in imposing such a cap on costs on teams though is how to ensure that engine spending by manufacturers is incorporated in a fair way.
"This is the fundamental problem," said Horner. "It is very difficult. Basically you are looking at a supply price, but this is where budget controls fall down in terms of how do you police and regulate them?
"This is where stability of regulations will always have a much bigger and more transparent impact."
Sauber team principal Monisha Kaltenborn told AUTOSPORT recently that she was in favour of a budget cap approach being adopted in F1 – but had to be at the right level.
"We for a while have been proposing a budget cap, which we are still convinced about because it will allow everyone to make use of their strengths," she said.
"It would be a level playing field and everyone could go the way they wanted to, which I think would make the sport very exciting.
"But we should not start at a level that is even beyond what people are doing right now. Fans want to see competition between teams, and what strategic decision you take on the development side as well as on track."
Another team principal, who did not wish to be identified, was much more sceptical about the idea of a budget cap being introduced at £155 million – because the level was so high.
"There is no plan yet to bring that limit down, so it will not really affect anyone – or help any of the teams that are facing cost issues," he said.
Horner reckoned that ultimately the best way to help all the teams on the grid would be to impose tighter technical and sporting regulations that limited the benefits of spending too much money.
"The problem is that we contradict ourselves, because 2014 for sure will be a very expensive car," he said.
"Whenever you change regulations there is inevitably an increase in expense involved, as you cannot carry over any components and you have to start your R&D process again from scratch.
"The most important thing is stability and I think what we would like to see is that 2014 is fixed, but thereafter there needs to be stability and I think stable regulations do enable costs to decrease."