McLaren's Michael reckons the 2013 tyre test in Brazil is crucial
| | |
| --- | --- |
| By Jonathan Noble | Friday, October 26th 2012, 09:27 GMT |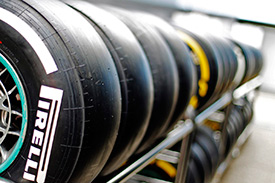 McLaren sporting director Sam Michael believes that Pirelli's scheduled test of 2013 tyres at the Brazilian Grand Prix will be 'critical' for teams in their planning for next year.
Pirelli is going to provide teams with two sets of 2013-specification rubber for first practice in Interlagos to allow some early data gathering of the redesigned products.
With tyres having played such a critical role in the outcome of this year's world championship, Michael is under no illusions about how vital it is teams make the most of the chance to get as much early data of the new products.
When asked by AUTOSPORT about how important the test was for teams, Michael said: "Extremely. It is very important because that is the only opportunity before February [to test them].
"They [the tyres] are different casings front and rear, so that will be the only point that you get that data.
"If we turn up in Brazil and it rains on Friday then that is it, but it is like everything in life: we are engineers so we try and dissect and analyse everything so we don't get surprises in three months' time.
"If no one gets any data then you do what you do, you adapt and react in February, but it is correct that the test is pretty important for the winter.
"If it changes something fundamentally on the car that you suddenly need to change designs for, then that is what is critical when they change tyre casings."
The Brazil FP1 test could provide a headache for those teams still in the title battle - as they elect to split time between the 2013 work and doing their best to win that race.
Michael reckons that it would not be too hard to balance things out though.
"The base set-up of the car is pretty close, the drivers are all good and, while they are doing that testing, it is not like they are not driving around and braking and thinking," he said.
"They are not just thinking about tyres themselves. I don't think it will make much difference to the championship."