Felipe Massa predicts stronger Ferrari in 2012 season run-in
| | |
| --- | --- |
| By Edd Straw | Thursday, October 25th 2012, 13:26 GMT |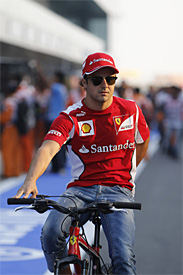 Felipe Massa expects Ferrari to be stronger in the final four races of the season after making progress with its aerodynamic problems.
Ferrari conducted a straightline test last week at the Idiada facility in Spain to understand why upgrades tried in recent races haven't been working.
Massa, who signed a Ferrari deal for 2013 after the Korean Grand Prix, is confident that the team is now on the right track.
"We understood some important things about pieces which didn't work in some races," said Massa of the test.
"That's important to understand the right direction to make the car quicker in these last four races.
"When you bring some piece and it doesn't work and you don't understand it, it's a problem.
"When you start to understand why it doesn't work, that's a positive.
"We can improve the car now and try to have a stronger car."
Massa added that he is hopeful of being able to continue his recent run of good form.
The Brazilian has been the second-highest points scorer over the past five races and has vowed to do everything he can to support the Spaniard's drivers' championship bid.
"The best way to help is to be strong, to take points away from other cars not just to help Fernando, but also to help the team," said Massa.
"There is little difference of [constructors' championship] points compared to McLaren, not so little compared to Red Bull, but that is important for the team as well.
"We will try to concentrate to score as many points as possible race by race."