Schnitzer hails Spengler's 'nerves of steel' after BMW DTM title
| | |
| --- | --- |
| By Matt Beer | Tuesday, October 23rd 2012, 10:20 GMT |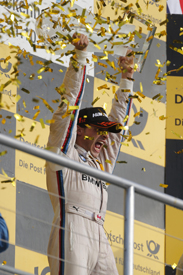 Schnitzer team boss Charly Lamm said champion driver Bruno Spengler played a critical role in BMW's unexpected sweep of DTM titles in its comeback year.
Spengler fought off Mercedes duo Gary Paffett and Jamie Green to claim the championship at Hockenheim last weekend.
The Canadian had been part of Mercedes' crack HWA line-up for the previous six years, twice finishing runner-up in the DTM standings before finally claiming his maiden title after moving to returnee BMW.
"In the past, BMW Team Schnitzer has often had exactly the right driver at exactly the right moment," said Lamm. "This was the case again with Bruno this year.
"We didn't know each other before the season. We had only previously observed him in the DTM. We met each other for the first time at the first communal test.
"BMW's decision to get Bruno and Dirk [Werner] to drive for us was definitely a very lucky one. Bruno's experience has done us a power of good. He has swept the team along and passed on his experience."
Lamm said Spengler's personality had also been a perfect fit for Schnitzer. The long-time BMW squad had previously taken Roberto Ravaglia to the 1989 DTM on its debut in the series' original incarnation, as well as achieving championship successes in Super Touring and sportscar racing.
"In our team, the driver is always the hero. He sets the level of performance," said Lamm.
"For us, success is not just down to preparing the driver's car perfectly, but also to having a good personal connection with the man himself.
"You can only achieve your goals if you work together. Bruno recognises this philosophy, and in this context he's been able to prove he has nerves of steel.
"He's done unbelievably well. And I am, of course, very happy we were able to help him win his first DTM title."