Pedro de la Rosa has no doubts about his HRT future
| | |
| --- | --- |
| By Edd Straw and Pablo Elizalde | Monday, October 22nd 2012, 11:23 GMT |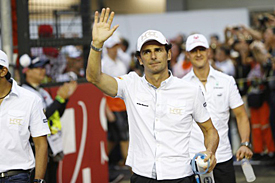 Pedro de la Rosa has no doubts he will be with the HRT Formula 1 team in the 2013 season.
The Spanish driver, who joined the Madrid-based squad for 2012, has a year of his contract left to run.
De la Rosa says that he is happy with the team despite fighting at the bottom of the grid all season and reckons there is no reason for him or the team to want to change.
"There is no news on this side. I have a two-year contract and I've always seen this as a two-year project minimum, because of how difficult it is to start in F1 from zero," de la Rosa told AUTOSPORT.
"So I know the second year will be better and that's why I wanted to stay for a second year. That's all I can say. I don't know what the team will do with the other driver, but I will stay here.
"I have a contract, and the the team is happy with me and I'm happy with the team. I want to see it grow. It would be foolish to start from zero again. I'm quite comfortable."
When asked if there was a chance HRT would replace him with a driver with more financial backing, he said: "I would be very surprised if they did that."
De la Rosa, who will be the older driver on the grid next year at 42 after Michael Schumacher's retirement, insists HRT's goal for 2013 is to continue making progress in its fight with Caterham and Marussia.
"Keep fighting with them, with the teams which are in front, which are plenty," he said when asked about the team's targets. "We have to be in the fight with Marussia and Caterham, but we also need to close the gap to pole position.
"We should be closer and keeping Marussia and Caterham as out logical rivals. That's the aim. We just have to work very hard, but we have a good structure now."
De la Rosa said the team has a staff of 83 people now.