Mario Andretti lauds 'phenomenal' Circuit of the Americas
| | |
| --- | --- |
| By Pablo Elizalde | Monday, October 22nd 2012, 09:10 GMT |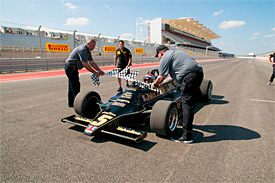 Former world champion Mario Andretti labelled the Circuit of the Americas as phenomenal after christening the track during the weekend.
The Austin circuit began its final countdown ahead of the inaugural United States Grand Prix with a 'First Lap Ceremony' in which drivers like Andretti and Jerome D'Ambrosio were joined by VIPs and celebrities.
Andretti first took to the track in the Lotus 79 with which he won the 1978 F1 title before completing more laps at the wheel of various other cars.
The American was scheduled to drive a Lotus R30, but technical issues meant the car was unable to run for the majority of the day.
"It's everything I expected and more," Andretti said. "The track is phenomenal.
"It has all the features that you are looking for, giving you the opportunity to overtake, while negotiating some tighter corners. You can tell a lot of thought has gone into it."
Lotus's reserve driver D'Ambrosio took to the circuit in the R30 before the car hit trouble, and the Belgian also praised the new track.
"It's been a great day today. There's a real buzz about the Circuit of The Americas and it was fantastic to get out on track to demonstrate the R30," D'Ambrosio said.
"It's a very enjoyable layout with a couple of really good places for overtaking, some long fast sweeping 'S' corners, and some really good high speed changes of direction like 'Becketts' in Silverstone.
"It was a shame not to get more laps, as an engine issue meant we were unable to continue running, but I had enough time to get a really good feel of the circuit.
"It's an enjoyable track for a racing driver and also fantastic for the fans as the viewing areas are very well placed; there should be plenty of action.
"The first corner is quite special and it will be interesting to see it when people are dicing for position in the race.
"Austin is a superb city with a great atmosphere, and I think the city will live around Formula 1 for the week of the Grand Prix and that's something we all can enjoy; it's really going to be something quite special."
The United States Grand Prix takes place on 18 November.